If you've been strictly following the games as an armchair Olympian, then it's time to check out these awesome 2012 London Olympics apps that will keep you connected to the games while you're on the go.
This iPhone/iPad app comes directly from the "most influential internet presence on the Olympics." Around the Rings – Olympic News is cerebral, kind of like the Wall Street Journal for the intuitive Olympic fan.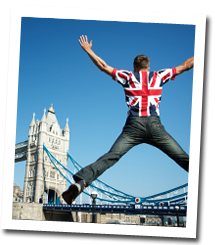 Highlights include:
Journalistic, contextual data for the discerning
Sponsor spotlights
International sports insider information
No Wi-Fi or 4G? No problem. This "unofficial guide to the London 2012 Olympics and Paralympic Games" app gives you access to a "self-contained database." Get your game on anytime, anywhere (as long as your iOS device is charged).
Features include:
Key facts on all the games, including the Paralympics
Everything you wanted to know (or didn't want to know) about the venues
A search tab that allows you to harness the offline database
In addition to a countdown ticker, this Android app serves up data in seven languages. You can also "touch" the country of your choice to find out participation details.
Other highlights include:
Detailed schedules
A handy medal tally
Access to events based on date
Olympic Spogger ($0.99)
This 2012 London Olympics app, available for Android and iOS, injects fun into all the regular Olympic data (medal tracking, venue details, etc.), by offering trivia quizzes and "engaging challenges."
You can also:
Use iCloud integration for access via other devices.
Get events, entertainment and games info through its "unique and entertaining blog."
Search any event by day and sport discipline.
Who doesn't want to root for the home team? This Android/iOS app shares inspiring information about the United States Olympic and Paralympic teams. It's like having Bob Costas' personal-interest interviews at your fingertips.
Additional features include:
A custom "cheer" button that allows users to send a personal message to athletes via Facebook or Twitter
Information about who made the team
Athlete bios, photo galleries and video clips
The Real Losers
"The most important thing is not winning but taking part," said Pierre de Coubertin, a French educator and Olympic advocate. While it's true that winning isn't everything, gold does wear better than bronze. What doesn't look good on anyone, however, is mobile malware.
From fake antivirus scams to old-fashioned theft, it's crucial to be on top of mobile security. In fact, the Department of Homeland Security released a guide that outlined the reasons why it expected "escalated levels of malware, fake mobile apps and online scams in the lead-up to this summer's Olympics."
The glory, however, can be yours with just a little dedication to security. Put yourself on the podium with safe London Olympics 2012 apps that transport you to victory.
By Joy Keller