This summer's blockbuster movie season got off to an early and massively profitable start. The opening of "The Hunger Games" shattered box office records, only to be eclipsed by the downright, well, heroic success of "The Avengers."
All that and summer hasn't even officially started yet. We've still got "Men in Black 3," "Prometheus," and the one that may outshine them all, Christopher Nolan's "The Dark Knight Rises."
It's an exciting time for movie fans, and the big studios know that. That's why now is the time to download the best movie apps to keep super-fans hyped up on all the great blockbusters of 2012. Here is a sneak preview of the best movie apps to keep you going as you gorge on all of Hollywood's summer treats.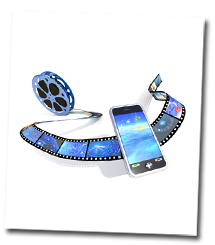 It's the Dark Knight, stupid
If you aren't nearly delirious with anticipation for this film, then you probably don't have a pulse. It's questionable whether or not it will make the time pass faster or slower, but you can download the Dark Knight Rises widget count (free for Android) and watch the days, hours, minutes and seconds tick away until the film opens in theaters.
Since staring at that widget all day until the movie debuts will probably drive you Joker-level insane, you can distract yourself with trailers, videos and news updates from the widget app or from the similarly themed Dark Knight+ (free for Android).
It's a Movie! It's a Game! It's a Mobile App!
"The Dark Knight Rises" is arguably the most anticipated film of the summer, but it's not the only film to take advantage of mobile platforms and digital marketing outlets to ratchet up the excitement of the dedicated summer cinephiles.
Some of the best movie apps involve gaming. The long-awaited "Men in Black 3" will arrive with a special treat for mobile movies fans: The Men in Black 3 Mobile Game (free for Android; "freemium" versions also available). You can take your own turn as a special agent hunting down rogue aliens while you're sitting in the theater waiting for the actual film to start.
If you want to go down a more absurd and hilarious road, you can try your hand at The Dictator: Wadiyan Games (free for iPhone/iPad). This mobile game riffs off of Sacha Baron Cohen's character General Aladeen from "The Dictator," as you compete in increasingly bizarre "sporting" events.
And if you want something a little spacier (and potentially scarier), check out the official Facebook app for Ridley Scott's upcoming "Prometheus," where you can explore star maps that will reveal images and teasers from the upcoming sci-fi blockbuster.
In cyberspace, no one can hear you scream
The one thing that may be scarier than the menacing aliens in "Prometheus" is the possibility of your mobile movie-going experience being ruined by malware or viruses that can tear through your smartphone or tablet faster than the next supervillain tears up Gotham City. To get the full enjoyment of these blockbuster summer movie apps, make sure your mobile security is stronger than Iron Man and more intimidating to malware than the Hulk on an agro-fueled rager.
Now grab the popcorn and the Junior Mints, because we're going to the movies!
By Jamey Bainer