Imagine a world where smart phones and tablets had never-ending batteries and wireless reception was always within reach. Sure, sending out an S.O.S. via Twitter will alert the world that you're stuck on a deserted island, but you've got plenty of time on your hands before a trusty follower forwards the message to search-and-rescue teams.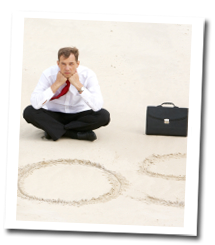 So, before sipping coconut water and reading the free Kindle edition of Robinson Crusoe, you've got to battle the elements and hunt-down dinner. Luckily, there are plenty of literal (and figurative) life-saving free mobile apps for that.
If the answers to your nature questions aren't in the U.S. Army Survival Guide, you may actually be on another planet, not a deserted island. The entire version is free for Android-toting civilians, and covers everything from building shelter to purifying water and identifying poisonous plant and animal life. Diagrams and helpful instructions make up 23 chapters that deliver everything short of the armed forces.
Another literal lifesaver is a mobile toolshed of an app, available to Android users. It'll take distance measurements, tell you the height of that tree you're about to climb and transform your phone into a digital magnifying glass in case your specs are somewhere out at sea and you've got splinters to pick.
The St. John Ambulance Association app is your mobile first aid resource. Since 1877, this UK-based emergency response and training program has provided the most up-to-date protocols, and now it has its own app available in the iTunes store. With easy-to-follow steps and diagrams, basic and severe medical response advice is just swipes away.
The last thing you want to see during your morning bath is a dorsal fin, but if you do, Shark Mate will help you identify the sharp-toothed species based on your geographic location. Brave enough to catch dinner before it catches you? There are even tackle suggestions, but since you don't have any gear, redefine fishing "tackle" (at your own risk).
Learn more about neuroscience on your iPhone with the cognitive enhancement program that's helped over 14 million users train their brains. Based on medical research conducted at top universities, there are several games to help improve memory and even make you think faster on your feet. Hopefully you're rescued before the 35 day course is complete; if not, repeat to achieve super-human brain power.
Pandora Radio (FREE)
Breathe to the soft sounds of ambient music or dance like a raging maniac – either way, no one's watching. Create up to 100 stations, or enter the title of your favorite song and let the Music Genome Project work its magic. Listen to songs you never knew existed thanks to the all-gifted mobile musical app that's available in both iTunes and Google Play.
Even though you're isolated and far from home, your mobile security is still at risk. Before embarking on any journey, make sure to protect yourself from cybercriminals. Being stuck on a deserted island is scary enough; the only thing worse would be getting eaten by a pack of wolves, or having your mobile lifeline hacked.
By Amy Granite