If there is one thing we can learn from Bravo's hit TV show "Top Chef," it's that cooking ain't easy.
Fortunately, cooking a meal to impress a date or a few close friends is a little easier than trying to wow an all-star chef like Tom Colicchio. All you need is a secret ingredient, which you can find on your smartphone or tablet. Keep these mobile apps stocked in your digital kitchen and you'll be a top chef in no time….
Think of this app as your mobile sous chef. With this tool you can consolidate all of your shopping needs, prep tasks and cooking schedules into a manageable system.
Highlights:
Coordinated plans for recipes, ingredients and prep work
Daily overview of all cooking tasks
Schedule system that can easily re-adjust for changes in an entire meal plan or individual items
A top chef is only as good as his or her recipes, and this award-winning app from Epicurious.com will give you about 30,000 of them.
Features include:
Recipes from Gourmet, Bon Appetit, famous top chefs and celebrated cookbooks
Shopping lists that can sync with recipes in your "Favorites" list
Recipe searches that can be filtered by what's in season, what's healthy, what's in your fridge and more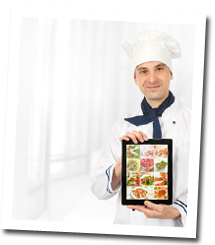 If you want to know how to think like a great chef, you need to know how to eat like one. This app features restaurant recommendations coming exclusively from some of the most talented chefs in the business.
Highlights:
Under-the-radar and locals-only dining tips from famous chefs
Featured foodie-friendly cities like Los Angeles, Austin, Chicago, New York and more
Time is never on your side when you're in the kitchen. Jamie Oliver of "Naked Chef" fame knows this, and he's been kind enough to provide you with an arsenal of recipes that will minimize your cooking time and maximize your meal enjoyment.
Features include:
21 videos shot exclusively for mobile with helpful tips, tricks and skills to master
60 recipes with step-by-step photos
Shopping list feature that sorts ingredients by aisle
Many people equate "raw food" with rabbit food, but renowned chef and raw food authority Matthew Kenney crafted this mobile app to teach top chefs-in training how to integrate this healthy, elegant and delicious approach into their own meal plans.
Highlights:
Award-winning recipes organized by appetizers, soups, salads, smoothies, entrees and desserts
Full-color photographs and nutritional information for every recipe and each individual ingredient
Full-length videos for further techniques and background on the raw lifestyle
Top Chef Judge's Table (free)
At some point, you'll get cocky and start believing you're good enough to join the real "Top Chefs" at the judge's table. Just for the record you're probably not… but this official app from NBCUniversal will at least feed your delusions a little bit longer.
Features include:
Rating system that allows you to photograph your food, put it through the same criteria used by the real judges on "Top Chef" and share rankings with other users
Guide to the highest- and lowest-rated food in your area
Custom challenges to boost your "top chef" ranking and win foodie-related prizes
Just remember that your cooking career won't go far if you let malware and viruses transform your mobile device from stunning top chef to surly busboy who quits right in the middle of the dinner rush. Keep your smartphones and tablets protected with the same care with which you guard your most prized secret recipe.
By Jamey Bainer