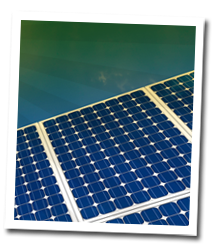 Solar power has been around for decades but has never caught on in a big way due to its high cost and low efficiency. Still, the potential that solar holds as a formidable renewable energy source—a knight in sunny armor—to break us from our dependence on oil, keeps hope alive that it will break down the barrier to serious market entry.
In its quest for stardom, solar has hitched its pony to the mobile supernova. Breakthroughs in this space could be the foot in the door that this technology needs to become a significant player in the general market.
There is a subgroup of technology companies focused on the solar space. Whether they are motivated by the idealism of harnessing the sun or the conviction that "if you build it they will come" is not clear. Regardless, there are a number of solar powered digital products on the market; many of which are phone chargers, but they haven't achieved traction because they don't work very well yet.
While the kinks are being worked out, companies are pushing through to develop solar powered cell phones and tablets, a technology that has the potential to take mobile sales into the stratosphere.
You can't stick it where the sun don't shine
While the Pixel QI solar powered tablet is virtually flying solo, there are several versions of solar powered phones currently for sale. The traditionally charged Samsung Replenish has an optional snap-on solar absorbing back cover. The Puma by Sagem takes it a step further by integrating a solar charger into its design. And, Intivation has developed its SunBoost3 platform that can be customized for any mobile device.
Although environmentally virtuous, these devices are still a work in progress. Not only are they expensive, they also have limited charging capabilities—either not charging through glass at all, or receiving barely enough solar power to make it worth it. Not to mention, the charge is only good for 20 minutes of talking time if held at a 90-degree angle to the sun for an hour.
Causing further hassle, solar powered phones can't be conveniently charged on a car dashboard, but must be held out the window facing the sun forcing you to steer with one hand. This jackass maneuver makes texting while driving look like child's play—unleashed cell phones whizzing through the air on the freeway won't boost sales.
A parting of clouds
French company Wysips claims it has developed a way to solar charge smartphones and tablets through glass that only adds $1 more to the cost. It has patented an undetectably thin, transparent photovoltaic film that covers the display of any touch screen device. Either the sun or another light source can charge this film. It's expected to work particularly well for e-readers that are powered from the ambient light as you read. If the claims about this technology are true, the launch of the Wysips product line in early 2012 could be a game changer.
Vitamin D for phones: Who cares?
Everyone has a wall and car charger, why bother with solar? We've all poked at the little solar panels on those cheesy Chinese calculators, seemingly created with landfill disposal in mind. Why wouldn't solar powered phones just be next in a long line of gimmicky electronics?
Ironically, the key to the success of solar powered mobile devices lies in one of the most untapped markets ever. The demand in the developing world for cell phones that don't depend on electricity is staggeringly large. In Kenya, there are 17 million cellphone users and only 1 million people with access to electricity. Multinational companies are falling over each other to be a part of this huge opportunity.
When technology companies set up headquarters in Europe, China and Nairobi, Kenya, it's wise to conclude that a market shift is afoot. The chatter at mobile shows is that the next billion units will be sold in emerging markets. The cheaper the technology and the better the solar charge, the bigger the market penetration will be.
Two Chinese companies, XTE and Umeox have cracked the African market with their solar feature phones as well as the Umeox Apollo, a solar powered smart phone. British telecom behemoth Vodafone is nipping at their heels with its mobile offerings both in Africa and India.
Solar power comes in from the cold
Thanks to the mobile gold rush, the market may finally be smitten with solar. This is great news for the majority of people in the world who have little to no access to electricity. But it's also really good news for the rest of us oil-dependent folks. The rush to develop solar powered devices for emerging markets may be the shot in the arm solar technology has been looking for. Let's hope for sunny times ahead.
By Tracy Mardigian-Kiles