Knowing how to keep yourself and your children safe online may appear to be a nearly impossible task. The Internet is drenched with information each day, and technology changes rapidly. However, there are tools to help organize these masses of information. Here are a few applications we use to keep up with Internet safety news.
Google Reader
Google Reader is a free tool that allows you to subscribe to websites and blogs. Reader brings all updates from your preferred web sites to your Google Reader page. The main benefit is that you do not have to go to each website separately to see if anything new is posted. Reader will always tell you when a website has new content. When new items come to your Reader page, the text will be bold with the number of new stories in parentheses, like this: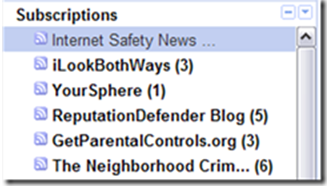 To follow iKeepSafe in your Reader, click the "Add a Subscription" button and copy and paste this URL: http://ikeepsafe.blogspot.com/feeds/posts/default?alt=rss
Other useful Net safety feeds to add to your reader include:
Twitter Applications
Twitter is another free and easy way to keep up with Internet safety news. Using the Twitter "Lists" function allows you to organize those you follow into different topics. For example, we created a cybersafety list on our Twitter page. This list includes those we follow that frequently post about Internet safety issues.
Other Twitter applications-such as HootSuite and TweetDeck-make Twitter even more convenient. Both applications allow you to view multiple Twitter feeds, lists, and searches at once. These applications also allow you to post to and follow other social networks (such as Facebook and LinkedIn) at the same time. Here's a view of our HootSuite page: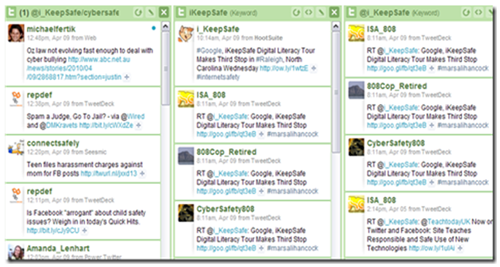 We encourage you to try out these tools, as well as others you find, and see what works best for you. These are just a few apps that can help you and your children increase your knowledge of how to stay safe and secure online.

---
References:
1. "Welcome to Google Reader." (3 March, 2010). Retrieved from http://www.google.com/reader.
2. "Social Media Dashboard." (3 March, 2010). Retrieved from http://hootsuite.com
3. "Tweet Deck." (3 March, 2010). Retrieved from http://www.tweetdeck.com