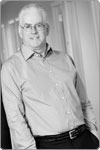 Michael Malloy, Executive VP of Products and Strategy
Michael Malloy is responsible for providing strategic and tactical direction to Webroot's product and business organizations. Malloy brings to Webroot more than 30 years of leadership experience with technology and financial services firms. Before joining Webroot, Malloy was vice president of marketing and sales for New Relic, where he was responsible for a tenfold increase in the company's customer base in a two-year period. Malloy previously held executive management roles for several leading companies including Wily Technology (now part of CA), where as chief marketing officer and senior vice president of product development he launched 35 new products and six major revisions of the company's flagship product.
Malloy received a Bachelor of Arts from Saint Louis University.