Get Virus Protection
Before It's Too Late!
Limited-time offer: Save 25% ($20 off)
Every day, hackers release thousands of viruses and other malware. And Webroot protects millions of people against them.
Protects you from:
Viruses
Spyware
Phishing Attacks & Fake Websites
Identity Theft
Plus...
Lightning fast scans in minutes*
No interruptions or slowdowns
70-day money back guarantee
PCs, Macs, Tablets or Smartphones +25GB Storage
Add more years & SAVE!
Years
ADD TO CART
*Amount shown reflects annual subscription value based on 1 year MSRP.
Webroot is simply better.
Security that's faster, smaller, and saves you time.
Award-winning protection and performance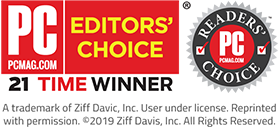 It installs in a flash, doesn't require signature updates, scans much more quickly, and takes a ridiculously small amount of space on disk. On top of that… an impressive protection job.
Neil J. Rubenking
PC Magazine Lead Analyst
System requirements
Microsoft® Windows® XP 32- and 64-bit SP2, SP3 
Windows Vista® 32-bit (all Editions), Windows Vista SP1, SP2 32- and 64-bit (all Editions)
Windows 7 32- and 64-bit (all Editions), Windows 7 SP1 32- and 64-bit (all Editions)
Windows 8 32- and 64-bit
Windows 8.1 32- and 64-bit
Windows 10 32- and 64-bit
Mac OS X 10.7 (Lion®)
Mac OS X 10.8 (Mountain Lion®)
OS X 10.9 (Mavericks®)
OS X 10.10 (Yosemite®)
OS X 10.11 (El Capitan®)
macOS 10.12 (Sierra®)
macOS 10.13 (High Sierra®)
macOS 10.14 (Mojave®)
Intel® Pentium®/Celeron® family, or AMD®K6/Athlon™/Duron™ family, or other compatible processor
128 MB RAM (minimum)
10 MB Hard Disk Space
Internet access
Google Chrome® 11 and newer
Internet Explorer® version 11 and newer (Windows XP IE8)
Microsoft Edge® (partial support)
Mozilla® Firefox® version 3.6 and newer
Safari 5 and newer
Opera 11 and newer
Android & iOS Requirements
Android™ Mobile Security:
Android™ operating system version 4.4 (KitKat) or higher
Android™-compatible device with 3 MB of free storage space
Data connection required
Apple® Mobile Security:
SecureWeb Browser and Password Management require iOS® 10 or later
Backup and Storage supported on iOS® 10 or later
Compatible with iPhone®, iPod touch®, and iPad® mobile digital devices
WiFi Security Requirements
Computer Requirements:
OS X 10.10 (Yosemite®) and newer
Windows 7 32- and 64-bit and newer (excluding Windows 8 and Windows 10 S)
Mobile Requirements:
Android™ operating system version 6 and newer
iOS® 10 and newer