Caffeinated Coffee-Chocolate Cookies
Adapted from Eating the Beats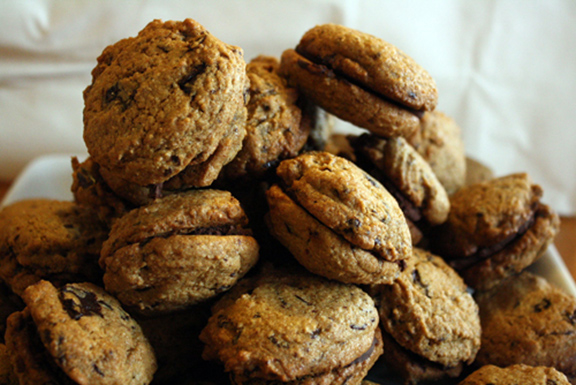 The Dish
Coffee/chocolate chip cookie sandwiches with chocolate-coffee filling
For The Cookies You'll Need:
3 cups whole wheat flour;
1 1/2 tsp baking powder;
1 1/2 tsp kosher salt;
1 tsp baking soda;
1 c (2 sticks) butter, softened;
2/3 c dark brown sugar;
2/3 c granulated white sugar;
2 eggs;
3 tsp instant coffee dissolved in 2 tsp vanilla;
2 c chopped dark chocolate OR 2 c mocha chips if you want a stronger coffee flavor
Preheat oven to 350 degrees F.
Sift together flour, baking soda, baking powder and salt into a medium bowl (yes, you need to sift it).
In a large bowl, cream together butter and sugars. Add eggs one at a time, then add the vanilla-coffee mixture.
Gradually stir the dry ingredients into the wet ingredients until combined, then stir in the chopped chocolate.
Scoop teaspoon-sized drops of cookie dough onto lightly greased or parchment paper-lined baking sheets and bake about 15 minutes.
Let cookies cool completely before adding the filling.
For The Filling You'll Need:
1/2 c heavy cream;
1 c chopped chocolate;
4 tsp instant coffee dissolved in 3 tsp vanilla extract
Bring cream almost to a boil in a small saucepan (stir as it heats; I took it off the heat when there was a little film around the edges of the pot).
Pour over the chocolate (in a heat-proof bowl), add coffee-vanilla mixture and mix together until chocolate is melted.
Refrigerate until thickened to a frosting-like consistency.
Assemble the sandwiches!
The Inspiration
TV on the Radio is an all-around awesome band, whose electro-rock makes me think of college dance parties, and the sea of fist-pumpers that flooded Grant Park at Lollapalooza a few years ago. Their album Nine Types of Light closes with a song called "Caffeinated Consciousness", while Return to Cookie Mountain was the title of their excellent 2006 release—hence the double inspiration behind these heavenly caffeinated treats!
About Laura Leebove
Laura Leebove is the Brooklyn-based writer and self-taught home cook behind Eating the Beats. Her full-time gig is in the editorial department at eMusic, and she spends most of her free time in the kitchen of her Bushwick apartment. Follow her on Twitter at @leebovel.
Past Newsletters
2014 Newsletters

2013 Newsletters

2012 Newsletters

2011 Newsletters