Tips from a Master Gardener
Our last article focused on planting flower bulbs in pots and leaving them outdoors in preparation for Spring. This time we're heading back down to the garden center to pick up some more bulbs…but this time we're going to force spring-flowering bulbs to bloom indoors during the shortest days of the year.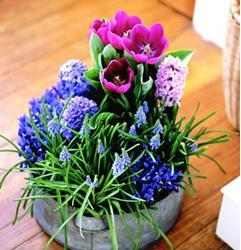 What exactly is "forcing"?
Forcing is nothing more than compressing the bulb's dormancy and tricking it into thinking winter was very short.
There's no pain or cruelty involved, and you're rewarded with happy, blooming flowers in the dead of winter.
Picking Your Bulbs
Some narcissus varieties, like paperwhites, have the sweetest scent that floats like perfume. Some bulbs are easier than others to deal with, and we'll be taking the easy route to start. If you feel more adventurous, feel free to experiment with different varieties.
Hyacinths (such as grape hyacinths), tulips, crocus, paperwhites and other narcissus types are really easy to work with. It's usually better to avoid mixing these together in the pots because they'll often bloom at different times, but you can do a pot of hyacinths and a pot of crocus if you want some variety.
Choose bulbs that are not sprouting and make sure they're not dried out or moldy. Healthy, plump and clean are what you're looking for.
Start Planting
Choose a pot that's at least twice as tall as the bulbs you're planting. Fill the pot with a well-draining potting soil so that when you put bulbs on top of the soil, the tip of the bulb is about the same height as the top of the pot.
Put your bulbs in so that they're close together. Try to leave a tiny bit of room between each bulb and they shouldn't touch the side of the pot itself. Pour in some more soil so that only the shoulders of the bulbs are showing. This isn't an exact science, so don't fret if you have it up to their necks.
Water the soil and keep it moist, but don't let them sit in water. Now put the pot in a dark and cool place – your refrigerator is ideal. Most bulbs need about twelve weeks of that cold dark storage and that's the trick you're playing – compressing their winter.
When the stems get to about 2" tall, move the pot to a warm sunny spot. From there they will shoot up and start to bloom. You can also dress up the pot with moss or stones to cover the soil.
When the bulbs are done blooming, you can go plant them in the garden and most of them will come up the next spring.
So get out there and do a little winter indoor gardening. You'll be glad you did!