X
Thank you for taking a moment to share your feedback with us.
Please write a review and tell us what you think!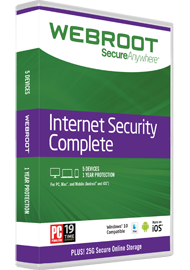 Webroot SecureAnywhere® Internet Security Complete
With Webroot SecureAnywhere Complete, your PCs, Macs, mobile devices, photos and personal files are protected against viruses, hackers and identity theft within minutes. Its revolutionary cloud-based threat detection is always up to date and scans for threats in less than 2 minutes. No other internet security program even comes close.

Thank you for your review!
Now share your feedback with your social circles and help protect others:
You can also share your story with a video testimonial
There was a problem with your submission. Please try again later.