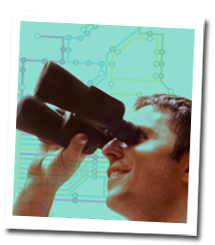 Travel is stressful enough without the added hassle of holiday hysteria. But we're living in a pristine, connected time where travel is also easier than ever. Do you remember when you had to book a hotel with no idea of how it looked or what its amenities were until you got there? What would the world be like without the ability to check flight status on the spot?
To help make your holiday vacation even more fun, here are some iPhone and Android travel apps that will help you recover from eggnog hangovers and keep your family entertained on the go.
Packing List - (Free)
Keep track of all those itchy patterned sweaters you receive as gifts. Not only can you organize items, this app automatically determines how many of each item you will need based on how long your vacation is. Email or share the list and you'll also have a record of your belongings in case your luggage is lost or stolen (or TSA agents helps themselves to your stocking stuffers).
Android Marketplace
iTunes
Layar Reality Browser - (Free)
If you get bored with watching football and need a fresh perspective, Layar Reality Browser "augments reality" for you. This browser app layers digital information on top of images you see through your phone's camera - your actual surroundings. The application uses your GPS location to determine what you're pointing at and gives you the skinny, such as information from your Twitter feed, Yelp, etc.
Android Marketplace
iTunes
WeatherBug Elite - (.99)
Unless you're visiting your long-lost cousin in the Bahamas for the holidays, chances are you'll need to keep a step ahead of the weather situation. Don't be the rube who doesn't know a blizzard is forecasted for Christmachanakwanzaa. You don't want to have to take the Greyhound to Granny's. WeatherBug Elite gives you more than Doppler radar in the palm of your hand, it provides alerts, satellite maps, cameras and lots of helpful widgets.
Android Marketplace
iTunes
GateGuru- (Free)
This app is a travel companion and airline agent rolled into one. It offers day-of travel information for more than 120 airports across the United States, Canada, Europe and Asia. View your Tripit and KAYAK itineraries, view/post airport security wait times and peruse a list of airport food, shops and services.
Android Marketplace
iTunes
Day Recorder Pro- ($0.99)
Don't bother bringing your leather bound journal to your destination, Day Recorder Pro will make your holiday retreat a production to be proud of. This diary app records your journey with photos, voice recording and GPS. It captures events that happen around you and your moving route. The recorded data can then be played on your phone's screen. You can also download it from your PC and replay it on your favorite web browser. The app touts its ability to play GPS log data on Google Earth.
iTunes
Lokadot- (Free)
Tap into the power of the cloud and access crowd-sourced audio files with Lokadot ("low" + "kuh" + "dote"). This app "meaningfully re-connects listeners to their surroundings with relevant audio about the places they inhabit and visit." So you can be at the local dam, quarry or attraction du jour, and this iPhone travel app pulls interesting information from a cloud-based database. Most audio files are also accompanied by a photo, title, location information and a handy URL.
iTunes
OpenTable- (Free)
You are a not vegetarian but your Aunt Hildy is, and you can only live off Tofurkey so long. This is why you need OpenTable. With access to over 15,000 restaurants in the U.S., Canada, and the U.K., this foodie app makes booking online reservations easy - no matter what type of device you have. Search for a restaurant by name or location, choose your filter ( price, time, cuisine and location), make the reservation, and you're eating beer-braised short ribs!
Android Marketplace
iTunes
Happy Hour Finder- (Free)
Sometimes you just have to go for a pint (or something stronger), and you have to do it now. Happy Hour Finder may very well save your life. This quick and easy app can point out the closest happy hours, and its nationwide coverage makes it your new favorite drinking buddy.
iTunes
RDM+- ($9.99)
Finally, if you can't stand being away from work or your precious PC, use RDM+ to have on-the-go access to your computer. Install the mobile app on your Android and RDM+ Desktop on your remote computer and you are ready to sustain your workaholic lifestyle. Email, edit documents, surf the web, manage files and do hundreds of other things that you would normally do if you weren't stranded at your in-laws' house.
Android Marketplace
At the end of the day (or year), no app would be worth its weight in terabytes without a safety net you can take with you. Don't take any chances with your shopping list, maps or other sensitive information. Peace on earth is sweet, but peace of mind is way more obtainable. Before you pack anything, load a mobile security solution that takes care of all the details.
By Joy Keller