What to do when you're a busy 8-to-6er and in serious need of a wardrobe overhaul? Sure, you could go shopping after work or on the weekend, but that's when everyone else is trying to squeeze in her retail therapy.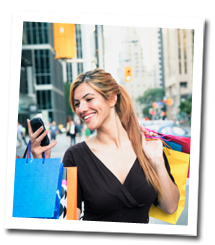 Make the most of your lunch break, commute or nightly wind-down (or is that wine down?) sessions on the couch. Take the mobile fashionista route and turn to these four apps to get your fashion fix.
The best part? You forgo the horrific dressing-room lights.
This app allows for old-school catalog shopping with a tech twist. You can digitally "thumb" through catalogs from Nordstrom, Sephora, Anthropologie and 150,000 other retailers.
Highlights:
Now you can cancel your snail mail catalog subscription and save loads of trees.
When searching for an item, TheFind comparison shops and delivers the lowest price available on the web.
The catalogs are ad-free, so no more "hot, local singles" banner-clutter to distract you.
Gilt on the Go (free, Android, iOS)
By now, most mobile fashionistas have heard of Gilt Groupe, the online shopping site that promotes flash sales from clothes to home decor to food, travel and more. Gilt is known for its sweet sales that range from 50-70 percent off the manufacturers' suggested retail prices.
Highlights:
Get alerted immediately when your favorite brands go on sale.
Navigate easily. The user interface is intuitive, making online shopping a quick, painless experience.
Receive Gilt City offers for huge deals in your area.
Reqoop (free, iPhone)
Reqoop has been compared to Foursquare, since the app has you take pictures while shopping (yes, you do have to brave the crowds for this one), then tag the location and share it with other Reqoop-ers. But this situation is infinitely cooler; instead of receiving badges (nothing but a bit of code that doesn't carry any real currency, last time we checked) you can earn real rewards like gift cards and shopping sprees.
Highlights:
While you do have to shop in the real world to take advantage of the app's benefits, a lot of the legwork has already been done for you through photo sharing and location tagging.
You have a chance to show some cash-money love to your local businesses.
Benefit from like-minded tastemakers who post hot looks in your zip code.
Another photo-sharing app for mobile fashionistas, it's like Instagram's fly younger sister. More style guide than shopping experience, Pose has gained the allegiance of über-stylist Rachel Zoe who's now backing the app with her own Bravo bucks.
Highlights:
Post your outfits across social networks and get feedback from fellow fashionistas.
Get inspired by looks posted from around the world, and spice up your wardrobe with some much-needed global flavor.
Pose is currently working on getting into the commerce game; so, digital shopping through the app will eventually be possible.
As always, make sure to keep your mobile security top of mind when shopping and sharing online:
Only buy your apps from legitimate stores like Google Play and iTunes.
Don't make purchases through a public Wi-Fi network, unless you're required to use a WEP key password to log on. Instead opt for your device's 3G or 4G service.
Treat your mobile device as you would your PC and protect your data with mobile security and antivirus protection.
By Laura Lee Arnet