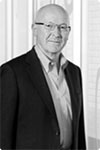 Dick Williams, CEO of Webroot
Dick Williams is President and CEO of Webroot, bringing over four decades of executive and operational leadership experience for technology, software and digital media companies. Dick has worked as CEO or Chairman of several category-defining companies, including Altor Networks (acquired by Juniper Networks), Hyperic (acquired by SprintSource Global), Wily Technology (acquired by Computer Associates) and Illustra Information Technologies (acquired by Informix). He also co-founded and served as chairman of Quokka Sports, an online immersive sports media company.
Williams' executive leadership experience began at IBM, where he spent 22 years in a variety of sales, marketing, product and business management roles. Following IBM, he served as President and CEO of Digital Research, which he turned around and sold to Novell. Williams currently is also an outside director of LogRhythm and Cloudera.