Spyware is a pervasive and significant security risk that requires a dedicated solution to defeat it. Malicious Trojans and system monitors, for example, are designed to steal confidential data for financial gain. Many anti–virus security solutions simply don't offer the level of protection today's enterprises require to defeat the widespread threat posed by evolving spyware exploits.
Webroot Spy Sweeper Enterprise 3.0 is a centrally managed, scalable enterprise solution that provides best of breed protection against all types of malicious spyware, adware, and other harmful intruders. Spy Sweeper Enterprise comprehensively detects and removes existing spyware, and blocks new threats before your employees can unwittingly infect their PCs.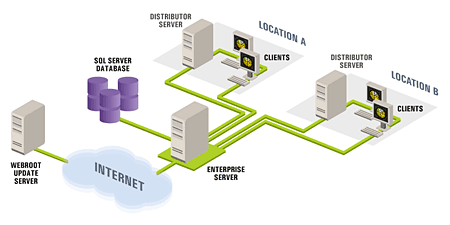 Spy Sweeper Enterprise 3.0 Scalable Architecture
Spy Sweeper Enterprise provides a distributed anti–spyware solution using a client/server architecture with centralized management and reporting.
Load balance client definition and program updates with optional deployment of distribution servers
Conserve bandwidth by distributing definition and program updates from servers located within the same LAN
Configure security policies and sweep settings by individual workstation, specific groups of users, or company–wide.
Server:
OS: Windows 2000 Pro/Server with SP4, Windows XP Pro with SP 2, Windows 2003 Standard, Enterprise, or SMB with SP1
CPU: 1 GHz Minimum
Memory: 1 GB Minimum
Disk Space: 1 GB Minimum
DB Support: Microsoft SQL Server 2005 Express (.NET 2.0, MDAC 2.8+), Microsoft SQL Server 2000 and 2005
IE: 6.0 SP1 or later
Client:
OS: Windows 2000 Pro/Server, Windows XP Home, Professional, Tablet, Windows 2003 Standard, Enterprise or SMB
CPU: 1 GHz Minimum
Memory: 128 Minimum, 256 MB or better recommended
Disk Space: 15 MB free space