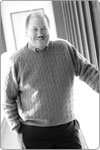 Kenton Sieckman, Senior Vice President of Technology Solutions
Kenton Sieckman is responsible for driving business processes and ensuring operational efficiencies across the company. As Webroot's first chief excellence officer, Sieckman partners with organizational leaders to enhance processes for delivering the highest quality products and services to consumers and businesses.
Sieckman joined Webroot in 2009 as the company's first vice president of worldwide service and support at Webroot. His background includes a proven track record for reinvigorating services and support operations for global technology companies. Sieckman previously held global management and leadership positions at Computer Associates (CA) and Wily Technology (acquired by CA in 2006), where he built the company's worldwide technical services organization which provided 24-hour customer support in over 20 countries.
Sieckman also managed strategic sales and field marketing for Oracle's North American Technology Business Unit, and the America's systems engineering organization of BEA Systems, Inc., prior to the company's acquisition by Oracle. Sieckman earned a bachelor's degree in Mathematics and Computer Science from the University of Colorado.