Protect Your Identity With Our
Award-Winning virus protection
PC / Mac
Lightning-fast scans with no interruption
Protect yourself from identity theft
No time-consuming updates
Original price was
*
Save
1 device / 1 year • Change
PC, Mac, Tablets or Smartphones*
All the features of AntiVirus AND:
Secures your smartphones and tablets
Protects your logins and passwords
Original price was
*
Save
3 devices / 1 year • Change
PC, Mac, Tablets or Smartphones* +25GB Storage
All the features of Internet Security Plus AND:
Eliminates traces of online activity
25GB of secure online storage
Original price was
*
Save
5 devices / 1 year • Change
There's Always a New Cybersecurity Threat - Let Webroot Help
Nearly half of all consumers worldwide have been victims of cybercrime. Every link clicked, email opened, app downloaded, and network joined is an opportunity for hackers to compromise your personal data. Even established threats like ransomware are continuously evolving, and new threats like cryptojacking are being added to an already diverse threat landscape. Webroot offers complete protection from viruses and identity theft for all your devices, without slowing you down.
Help me choose the best security
Compare all our products to find customized protection for you and all your devices – at a price to fit any budget.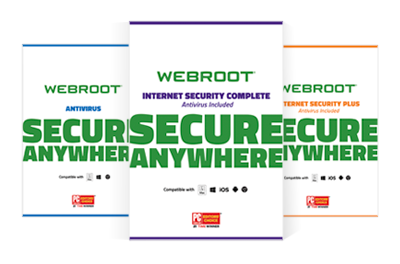 Not All Virus Protection Is Created Equal: Why Free Isn't Better
As activities like shopping, banking, and financial planning continue to migrate to the web, cybersecurity stakes continue to rise. The features that help keep you safe - like password management, mobile security, and identity and privacy protection - aren't included in most free protection. When it comes to protecting you and your family's devices, you get what you pay for.
Award-winning protection and performance
It installs in a flash, doesn't require signature updates, scans much more quickly, and takes a ridiculously small amount of space on disk. On top of that… an impressive protection job.
Neil J. Rubenking
PC Magazine Lead Analyst
*iOS device protection consists of a secure browser, backup, and password management. It does not scan iOS apps to block malware.