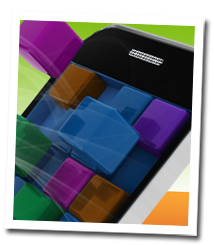 Instead, they're 3 of the 58 pirated apps recently pulled from the Android Market. For those of you who don't know—Google yanked the files last March because rogue developers snagged the original apps, created new versions infected with DroidDream malware and republished them to the Market and other third-party stores.
Attacks of this type are rapidly becoming the norm as more people choose the convenience, functionality and, frankly, cool of smartphones over feature phones.
Although mobile—not exactly a moving target
The smartphone isn't the only unlucky recipient of mobile attacks—the tablet is just as susceptible to Trojans, worms and rootkits.
Once the object of reproach and tepid Yoda-esque statements like "Insanely great it is not, " tablets are swiftly becoming the little gadget that could. Especially now with the creation of tablet-only platforms, like the Android 3.0 Honeycomb OS, it seems the portable device is here to stay, which makes it a prime target for attack.
The thing is, up until now, mobile devices have flown under the threat radar with PCs mainly taking the abuse. As a result, many smartphone devotees and tablet toters give little thought to the risks that lurk behind deceivingly harmless apps. But that way of thinking needs to change—quickly.
Just ask the 260,000 unfortunates who just couldn't pass up apps like Super Sex Positions and Magic Hypnotic Spiral and awoke to the nightmare that was the DroidDream Trojan.
That virus was particularly harmful because it infiltrated each smartphone's three-pronged link to the user's personal information, carrier billing system and the Internet. Once in, the infected app deployed additional apps to root even deeper for private information, all unbeknownst to the victim.
The best way to keep your wireless gadgets safe...
Listen, it's not a surprise that smartphones and tablets are no safer from invasions than computers. A digital device is a digital device, regardless of its size and portability. The upside is that there are a number of ways you can protect yourself, thereby bypassing the dreaded facepalm moment.
Of course it's imperative that you carefully read reviews, ratings and permissions for suspect information. People often skip this step when caught in the feverish throes of app acquisition.
And you should always verify that your software comes from a reputable market. When searching for an app (foodie, pet, T-Pain-inspired auto tuner—whatever your poison), make sure it comes from a trustworthy store like Amazon, Verizon, iTunes or Android.
Take it one step further and visit the developer's website. If it looks even slightly shady, mosey along to a safer app.
But the best way to protect your privacy, finances and mobile gadgets is to use mobile security software.
Why wouldn't you treat your smartphone and tablet with the same TLP (i.e., tender loving protection) that you give your computer?
Try the free Webroot Mobile Security app for Android. Think of it as the über app—malware's ultimate arch nemesis. It scans your gadget quickly and won't drain the battery, leaving you plenty of juice to play Angry Birds for eons.
The security app also keeps you safe by:
Blocking both known and unknown callers
Remotely locking your device if it's been lost or stolen
Automatically updating the antivirus software
Screaming at you—yes, screaming (If gremlins have a habit of hiding your phone, the app will "scream" an alert so you can locate the device.)
If you're looking for extra protection like an app inspector and remote wiping capabilities, check out an affordable upgraded version at a BestBuy near you.
Either way, let Webroot take care of your security needs so you can spend more time enjoying your apps and not fighting them.
By Laura Lee Arnet