Protect Your Identity With Our
Award-Winning virus protection
PC / Mac
Lightning-fast scans with no interruption
Protect yourself from identity theft
No time-consuming updates
1 device / 1 year • Change
PC, Mac, Tablets, Chromebooks™ or Smartphones*
All the features of AntiVirus AND:
Secures your smartphones and tablets
Protects your logins and passwords
3 devices / 1 year • Change
PC, Mac, Tablets, Chromebooks™ or Smartphones*
All the features of Internet Security Plus AND:
Eliminates traces of online activity
5 devices / 1 year • Change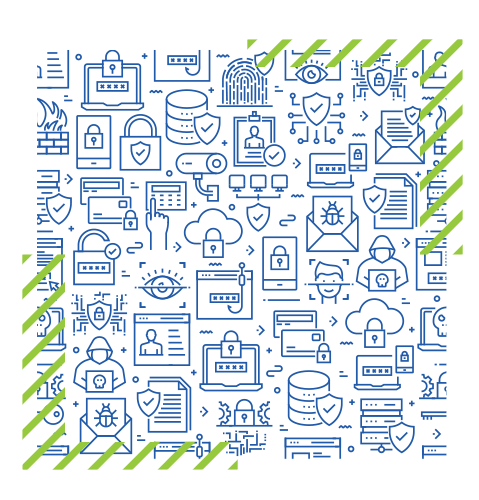 What is antivirus software designed
to do?
The job of virus protection software is to scan for, detect and defend against any type of program likely to inflict damage on a device or against a user. Many antivirus solutions do this by scanning the device looking for snippets of code that match a list of "known-bad" examples. Some store this list on the device itself and update it periodically, while other solutions consult the cloud for matches.
Viruses are a type of malware, which is a far broader term encompassing many types of threats. So, this type of computer security software may more accurately be referred to as an antimalware solution, but the end goal remains the same: to protect computers, laptops, tablets, smartphones and other digital devices from harmful bits of code.
Antiviruses do this by:
Performing regular scans for malicious files, apps, scripts or other data objects
Detecting and removing data objects determined to be malicious
Prevent ransomware from encrypting a device owner's files
And, in some cases, even "rolling back" unwanted actions taken by a piece of malware
What does antivirus software help protect us from?
Computer security software is responsible for preventing damage to a device or attacks targeting users. Attacks against a device may entail preventing a computer from functioning at all (known as "bricking" in the industry), hijacking it to a threat actor's bidding or turning into a member of a zombie army of computers (called a botnet) to wreak havoc on the wider internet. Attacks targeting users may spy on actions taken on a device, steal sensitive information or hold their data for ransom.
The world of malware is wide, and includes:
Adware
Spyware
Ransomware
Trojans
Keyloggers
Cryptojackers
And many, many more…
Free Antivirus
"But why should I pay for antivirus protection software?"
As more people do activities like shopping, banking, and financial planning on the web, cybersecurity stakes continue to rise and the need for computer security software increases.
You need features like these to keep you safe:
• Password management
• Mobile security
• Identity and privacy protection

…Not to mention award-winning support for the off-chance that something goes wrong. These important features aren't included in most free virus protection software. When it comes to keeping you and your family's devices safe, you get what you pay for.
"Okay, so why should I trust Webroot protection?"
Lots of antivirus security providers talk about how they use AI and machine learning. We were actually pioneering that kind of technology in security way before it was cool. In fact, we've been:
Protecting the connected world since 1997

Innovating, refining, and applying machine learning since 2007

Cloud-based since 2011
With Webroot, you know you're in good hands, because we have the experience and the expertise to keep you and your family safe from today's advanced attacks.
Don't take our word for it, read our reviews.
FANTASTIC
I have been using Webroot Secure Anywhere for over ten years and have been completely satisfied with the performance of this product. I would encourage anyone to purchase this for your computer.
WORKS GREAT
I have Webroot on my desktop computer. It works Great. I have had No issues with the computer since Webroot was installed. I highly recommend Webroot to anyone with a computer to avoid Viruses and the like.
AFFORDABLE AND UNOBTRUSIVE
II will soon be adding more devices to this security. It has worked well and seems to be completely unobtrusive. Definitely affordable for the protection provided.
"It installs in a flash, doesn't require signature updates, scans much more quickly, and takes a ridiculously small amount of space on disk. On top of that… an impressive protection job."

- Neil J. Rubenking, PC Magazine Lead Analyst
Help me choose the best security
Compare all our antivirus products to find customized protection for you and all your devices – at a price to fit any budget.