Cybersecurity
Awareness Month
Make Sure You're Protected from Online Threats
PCs, Macs, Tablets or Smartphones*
Original price was
*
Save
3 devices / 1 year • change
PCs, Macs, Tablets or Smartphones +25GB Storage*
Original price was
*
Save
5 devices / 1 year • change
PCs, Macs, Tablets or Smartphones*
Original price was
*
Save
3 devices / 1 year • change
PCs, Macs, Tablets or Smartphones +25GB Storage*
Original price was
*
Save
5 devices / 1 year • change
Advanced threat protection for PCs and Macs
Always-on security for your data and identity
Protection that stops ransomware
Real-time anti-phishing blocks harmful sites
Firewall and network connection monitor
Lightning-fast scans without interruption
Secures your smartphones and tablets*
Protects account logins and passwords
Eliminates traces of online activity
25GB of secure online storage, accessible anywhere
PCs, Macs, Tablets or Smartphones*
Original price was
*
Save
3 devices / 1 year • change
PCs, Macs, Tablets or Smartphones +25GB Storage*
Original price was
*
Save
5 devices / 1 year • change
Webroot won't interrupt you.
So you don't have to stare at the screen while your computer runs a scan.
Webroot takes 20 seconds to check your computer – 60x faster than the average scan time of tested competitor products.
Award-winning protection and performance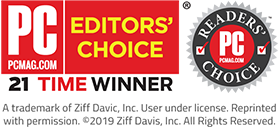 It installs in a flash, doesn't require signature updates, scans much more quickly, and takes a ridiculously small amount of space on disk. On top of that… an impressive protection job.
Neil J. Rubenking
PC Magazine Lead Analyst
*iOS device protection consists of a secure browser, backup, and password management. It does not scan iOS apps to block malware.
System Requirements