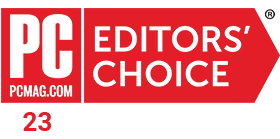 Webroot antivirus solutions
for a limited time only.
Multi-Device Security With Improved System Performance For All The Ways You Connect
Secures up to 5 PCs, Macs, tablets, Chromebooks™ or smartphones**
Need to protect more than 5 devices?

Protect your identity, online shopping, and online banking

No time-consuming updates or slow scans with complete security antivirus
Get a FREE 14-Day Trial
We'll send you a link via email so that you can install the full version on up to 3 computers for 14 days.
No credit card required
There's Always a New Cybersecurity Threat. Let Webroot Help.
Nearly half of all home users worldwide have been victims of cybercrime. Every link clicked, email opened, app downloaded, and network joined is an opportunity for hackers to compromise your personal data. Even established threats like ransomware are continuously evolving, and new threats like cryptojacking are being added to an already diverse threat landscape. Webroot offers complete multi-device security protection from viruses and identity theft for all your devices, without slowing you down.
Proven online security by the numbers
Webroot protects your devices from: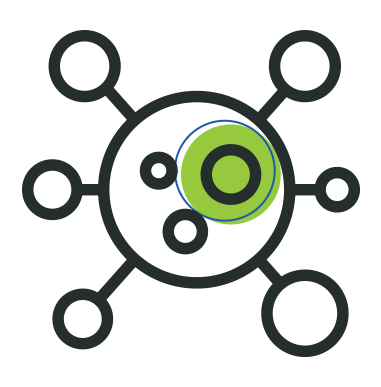 60,000
new malicous IP addresses
classified daily
43,000
new malicious URLs found daily,
including phishing sites
1.5 Million
new file encounters
every day
Webroot® WiFi Security + Virus Protection
The Webroot WiFi Security VPN and antivirus protection go hand in hand. To stay safe online, you need both. One protects your devices. One protects your connection. Both work together to give you security and privacy as you work, share, bank and browse.

WiFi Security
Automatic complete computer and multi-device protection over any network, even unsecured WiFi
Safe and secure browsing to protect your identity and privacy online
Advanced web-filtering to protect you from malicious or risky websites*
* Only available on Windows®, Mac® and Android™ systems
Webroot® WiFi Security +
Internet Security Complete
for up to 5 devices
One Year
This is what Webroot security can do for you

Identity theft protection
Did you know specialized malware exists that can monitor your internet browsing habits and even record your keystrokes? Protects your usernames, account numbers, and other personal information against keyloggers, spyware, and other online threats targeting valuable personal data with complete security antivirus
Real-time anti-phishing
Year-after-year, phishing attacks continue to be a leading cause of data breaches among businesses and individuals. Websites, emails and other communications designed as if from reputable businesses can steal login credentials or implant malware on your device.
Password Management Powered by
Secure password management from LastPass® is included with Webroot SecureAnywhere® Internet Security Complete. LastPass is the most trusted name in secure password management. It encrypts all username, password, and credit card information to help keep you safe online.
Mobile security
Protect your identity while on mobile devices with secure web browsing that blocks malicious websites and phishing attacks before you load them. Webroot provides security for Android™ phones and tablets as well as a Secure Web Browser for iPhone®, iPad® and iPod Touch®.
Lightning fast scans
Webroot scans take about 20 seconds. That's up to 60x faster than competing products, while still offering superior protection. Plus, with cloud-based updates, your internet security is always up to date.
Security for Chromebook™
Powerful security that adds an extra layer of protection to your Chromebook and blocks dangerous websites that try to steal your personal information. Protect your family with enhanced antivirus designed specifically for Chromebook.
System optimizer
System Optimizer is a privacy protection and system maintenance tool. It erases past online activity including browsing history, temporary files (the cache) and cookies to protect your privacy. It also reclaims hard drive space and improves performance by deleting unnecessary files.
Help me choose the best security
Compare all our antivirus products to find customized protection for you and all your devices – at a price to fit any budget.
We have options to help you protect one or all of your laptops, desktops, and mobile devices** for one year or up to three, with available features like password protection and improved system performance. Whatever your cybersecurity needs, Webroot has the product to match.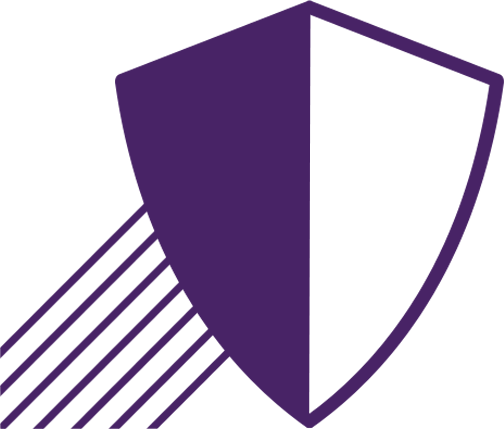 Feel safer online, our guarantee
Webroot® Internet Security Complete includes Identity Shield, designed to protect your:
Browsing, shopping, banking and social media
Credit cards and other personal data
We guarantee you the real-time protection you deserve with our 70-day, no-questions-asked, money-back guarantee. Try it out, no credit card required.
Webroot Customer Reviews
SecureAnywhere Internet Security Complete
Webroot SecureAnywhere® Internet Security Complete cloud security provides powerful protection from online threats for all your devices keeping you safe no matter how or where you connect. It scans faster, uses fewer system resources, and protects you in real time by instantly identifying and blocking new threats as soon as they appear.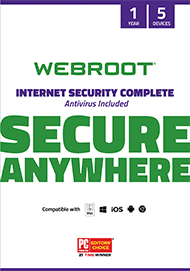 Not All Virus Protection Is Created Equal: Why Free Isn't Better
As activities like shopping, banking, and financial planning continue to migrate to the web, cybersecurity stakes continue to rise. The features that help keep you safe - like password management, mobile security, and identity and privacy protection - aren't included in most free protection. When it comes to protecting you and your family's devices, you get what you pay for.
**iOS device protection consists of a secure browser and password management. It does not scan iOS apps to block malware.
System requirements