New protection for your new devices
Basic
AntiVirus
$23.99
For 1st year
Buy now
Product details
Plus
Internet Security Plus
$35.99
For 1st year
Buy now
Product details
Complete
Internet Security Complete
$47.99
For 1st year
Buy now
Product details
Premium
Webroot
Premium
$77.99
For 1st year
Buy now
Product details
# of Devices
1 device
3 devices
5 devices
5 devices + 1 identity
Threat protection for PCs and Macs
Lightning-fast scans without interruption
Always-on security for your identity
Protection that stops ransomware
Real-time anti-phishing blocks bad sites
Firewall and network connection monitor
Web Threat Shield identifies and blocks dangerous websites
Secures your smartphone and tablets
Offers custom-built protection for Chromebook
Protects account logins and passwords
Cleans your device and improves system performance
Eliminates traces of online activity
Identity Protection Features
Dark Web Monitoring with Social Security Trace
Financial Monitoring including Account Takeover alerts
Identity Monitoring with Identity Health Status Updates
1 Bureau Credit Monitoring
24/7 U.S.-based Restoration
$500k fraud expense reimbursement*
$50k stolen funds reimbursement*
What is antivirus?
Antivirus software scans, detects and defends against any virus or malicious program like worms, trojans, adware and more that might cause damage to your devices. Antivirus is critical because it helps protect computers, laptops, tablets, smartphones and other digital devices from becoming infected.

Reliable antivirus software also helps protect your precious memories, music, photos and important documents from being lost or damaged.
Why isn't free
virus protection better?
Often, free antivirus uses your personal information and may do more harm than good. Purchasing reliable antivirus means you're securing your devices without question. When protecting you and your family, you get what you pay for.
Don't take our word for it, read our reviews.
Fantastic
I have been using Webroot Secure Anywhere for over ten years and have been completely satisfied with the performance of this product. I would encourage anyone to purchase this for your computer.
Works great!
I have Webroot on my desktop computer. It works Great. I have had No issues with the computer since Webroot was installed. I highly recommend Webroot to anyone with a computer to avoid Viruses and the like.
Affordable and unobtrusive
II will soon be adding more devices to this security. It has worked well and seems to be completely unobtrusive. Definitely affordable for the protection provided.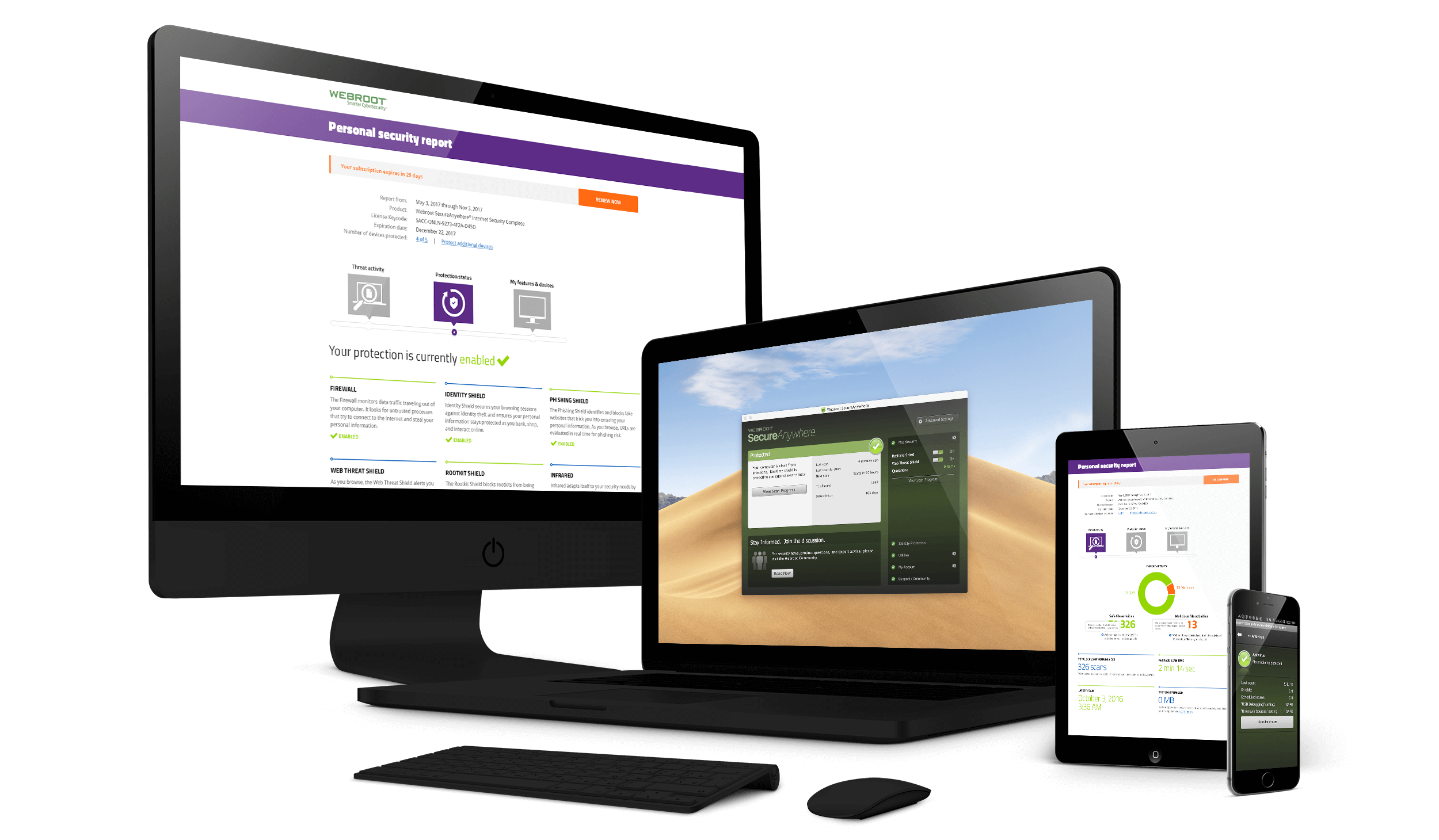 Help me choose
the best security
Compare all our antivirus products to find customized protection for you and all your devices – at a price to fit any budget.
Protect your identity with our
award-winning virus protection