Special 90-Day
Antivirus Offer
Cybercriminals are taking advantage of the COVID-19 pandemic. As we all spend more time online, we want to make sure you and your family are safe from opportunistic hackers and online threats. That's why we're offering you 90 days of Webroot SecureAnywhere® AntiVirus for free.

Just fill out the form below to get your free Webroot protection. No credit cards required, no obligation to buy. Stay safe—both online and off.
By clicking "Start Free Trial" you confirm that the information you have supplied
is true, accurate, and complete. To learn how Webroot processes personal data,
see our Privacy Policy.
You will see a confirmation page and receive an email with download instructions.
If either does not occur, please contact Webroot Customer Sales.
What to expect with your free antivirus
You have a lot of considerations when trying out new internet security software. You want the product with the best performance, features, and functionality. We think you'll find that with Webroot.
That's why we're happy to offer you this free 90-day protection period, no strings attached. Go ahead, take it for a spin today.

Why you need Webroot SecureAnywhere® AntiVirus
Instantly protects against new threats as soon as they emerge

Won't interrupt you with endless pop-ups and alerts

Secures PC or Mac devices

Protects you from identity theft

No time-consuming updates or slow scans

Windows 10 compatible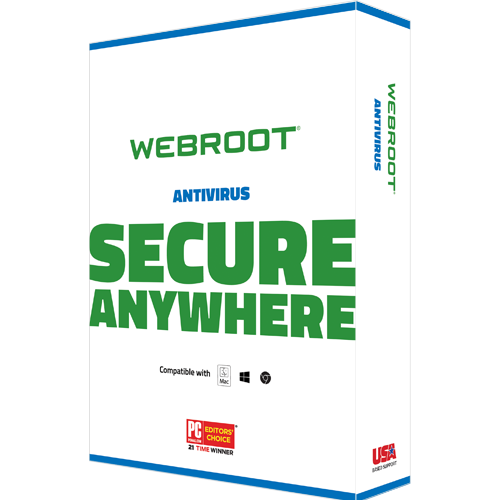 Microsoft® Windows® XP 32- and 64-bit SP2, SP3 
Windows Vista® 32-bit (all Editions), Windows Vista SP1, SP2 32- and 64-bit (all Editions)
Windows 7 32- and 64-bit (all Editions), Windows 7 SP1 32- and 64-bit (all Editions)
Windows 8 32- and 64-bit
Windows 8.1 32- and 64-bit
Windows 10 32- and 64-bit
Mac OS X 10.7 (Lion®)
Mac OS X 10.8 (Mountain Lion®)
OS X 10.9 (Mavericks®)
OS X 10.10 (Yosemite®)
OS X 10.11 (El Capitan®)
macOS 10.12 (Sierra®)
macOS 10.13 (High Sierra®)
macOS 10.14 (Mojave®)
macOS 10.15 (Catalina®)
Intel® Pentium®/Celeron® family, or AMD®K6/Athlon™/Duron™ family, or other compatible processor
128 MB RAM (minimum)
10 MB Hard Disk Space
Internet access
Google Chrome® 11 and newer
Internet Explorer® version 11 and newer (Windows XP IE8)
Microsoft Edge® (partial support)
Mozilla® Firefox® version 3.6 and newer
Safari 5 and newer
Opera 11 and newer
PC & Mac Requirements
Microsoft® Windows® XP 32- and 64-bit SP2, SP3 
Windows Vista® 32-bit (all Editions), Windows Vista SP1, SP2 32- and 64-bit (all Editions)
Windows 7 32- and 64-bit (all Editions), Windows 7 SP1 32- and 64-bit (all Editions)
Windows 8 32- and 64-bit
Windows 8.1 32- and 64-bit
Windows 10 32- and 64-bit
Mac OS X 10.7 (Lion®)
Mac OS X 10.8 (Mountain Lion®)
OS X 10.9 (Mavericks®)
OS X 10.10 (Yosemite®)
OS X 10.11 (El Capitan®)
macOS 10.12 (Sierra®)
macOS 10.13 (High Sierra®)
macOS 10.14 (Mojave®)
macOS 10.15 (Catalina®)
Minimum Requirements
Intel® Pentium®/Celeron® family, or AMD®K6/Athlon™/Duron™ family, or other compatible processor
128 MB RAM (minimum)
10 MB Hard Disk Space
Internet access
Google Chrome® 11 and newer
Internet Explorer® version 11 and newer (Windows XP IE8)
Microsoft Edge® (partial support)
Mozilla® Firefox® version 3.6 and newer
Safari 5 and newer
Opera 11 and newer