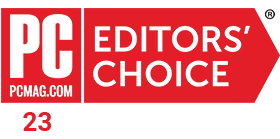 Webroot antivirus solutions
for a limited time only.
Antivirus Protection for Gaming PCs
Protects against the loss of personal data

Optimizes your gaming system

Play games at warp speed
Full virus protection for gamers without impact on speed
Play PC games with no annoying lag or interruptions
No need for a "Gamer Mode" or "Silent Mode" option that simply turns off real-time antivirus protection to avoid performance slowdowns
Increases drive space, reduces access times, and improves gaming performance
Performance guarantee
At Webroot, we take pride in our antivirus software's ability to work effectively behind the scenes. When we heard from office gamers that they do too, we got down to designing a product from the ground up to secure Gaming PCs without slowing them down.

If you're not convinced it protects without impacting gameplay, we'll refund your purchase price within 70 days. Guaranteed.
An Antivirus Protection Built Just for Gamers
Gamers are likely to be more susceptible to online threats than your average user. There's the fact that they conduct more online activity than the average user, sure. But the proliferation of online gaming retailers and in-game microtransactions opens up gamers to even more cyber threats.
Webroot is uniquely positioned to protect PC gamers unwilling to sacrifice speed or performance from the online threats they face. Its industry-leading endpoint agent doesn't hog system resources and scans last only around 20 seconds. Webroot doesn't require a "gamer" or "silent" mode because it's used to working in the background, completely securing your PC without interruptions.
The system optimizer feature also helps protect your privacy by erasing browsing history, cookies, and caches, while reclaiming valuable hard drive space by deleting unnecessary files, ensuring your system is always performing at its peak.

Virus protection created by gamers, for gamers
Webroot Customer Reviews
SecureAnywhere AntiVirus for PC Gamers
Webroot AntiVirus for Gamers ensures you're protected with real-time security that won't impact gameplay. Its antivirus program is installed in the cloud and therefore takes up relatively little space on your computer. Webroot is incredibly efficient because updates are all performed in the cloud. This is ideal for gamers who need every ounce of performance they can get out of their computers in order to maximize their in-game experience.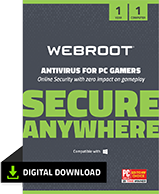 System requirements

Windows® 7 32- and 64-bit (all Editions), Windows 7 SP1 32- and 64-bit (all Editions)
Windows 8 32- and 64-bit
Windows 8.1 32- and 64-bit
Windows 10 32- and 64-bit
Windows 11 64-bit
Chrome OS™ operating system
For more information click here.
Intel® Pentium®/Celeron® family, or AMD®K6/Athlon™/Duron™ family, or other compatible processor
128 MB RAM (minimum)
10 MB Hard Disk Space
Internet access
Google Chrome® 11 and newer
Internet Explorer® version 11 and newer (Windows XP IE8)
Microsoft Edge® (partial support)
Mozilla® Firefox® version 3.6 and newer
Safari 5 and newer
Opera 11 and newer