Webroot® AntiVirus
for PC Gamers
All the protection you need. Zero impact on play.
Keeps your gaming PC protected against personal data loss

Optimized for gaming systems

No impact on gameplay
Does a gaming PC need antivirus?
Yes! Gamers are likely to be more susceptible to online threats than the average user. Plus, the proliferation of online gaming retailers and in-game microtransactions opens up gamers to even more cyber threats. Webroot protects your gameplay from online threats like malware without slowing down your PC.
Keep the good times going with full antivirus protection
Custom protection designed for PC gaming
Zero interruptions: Play PC games without annoying lag or performance interruptions
Real-time protection: No need for "gamer mode" or "silent mode"
Boost drive space: Increase drive space, reduce access times and improve gaming performance
Virus protection created by gamers, for gamers

Identity theft protection
Webroot protects your usernames, account numbers and other personal information against online threats.
Real-time anti-phishing
Our cloud-based protection keeps you and your family safe every time you connect.
US-based company
Webroot's award-winning customer service is 100% in-house, offering industry-leading support and product assistance.

Lightning fast scans
Webroot is one of the fastest, lightest and most effective antivirus products on the market.
Threat protection
Protection from established threats like ransomware and malware.

Satisfaction guaranteed
Webroot offers a 70-day trial and a no-questions-asked money-back guarantee. No credit card required.
Webroot Customer Reviews
SecureAnywhere AntiVirus for PC Gamers
Webroot AntiVirus for Gamers ensures you're protected with real-time security that won't impact gameplay. Its antivirus program is installed in the cloud and therefore takes up relatively little space on your computer. Webroot is incredibly efficient because updates are all performed in the cloud. This is ideal for gamers who need every ounce of performance they can get out of their computers in order to maximize their in-game experience.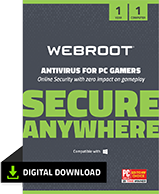 System requirements

Windows® 7 32- and 64-bit (all Editions), Windows 7 SP1 32- and 64-bit (all Editions)
Windows 8 32- and 64-bit
Windows 8.1 32- and 64-bit
Windows 10 32- and 64-bit
Windows 11 64-bit
Intel® Pentium®/Celeron® family, or AMD®K6/Athlon™/Duron™ family, or other compatible processor
128 MB RAM (minimum)
10 MB Hard Disk Space
Internet access
Google Chrome® 11 and newer
Internet Explorer® version 11 and newer (Windows XP IE8)
Microsoft Edge® (partial support)
Mozilla® Firefox® version 3.6 and newer
Safari 5 and newer
Opera 11 and newer