Opportunistic 419 advance fee scammers are currently using CNN.com's "Email This" feature to spamvertise Syrian Crysis themed emails, in an attempt to successfully bypass anti-spam filters. Ultimately tricking users into interacting with these fraudulent emails. The emails are just the tip of the iceberg in an ongoing attempt by multiple cybercrime gangs, looking to take advantage of the geopolitical situation (event-based social engineering attack) for fraudulent purposes, who continue spamming tens of thousands of emails impersonating internationally recognized agencies, on their way to socially engineer users into believing the legitimacy of these emails.
Sample screenshot of the spamvertised email: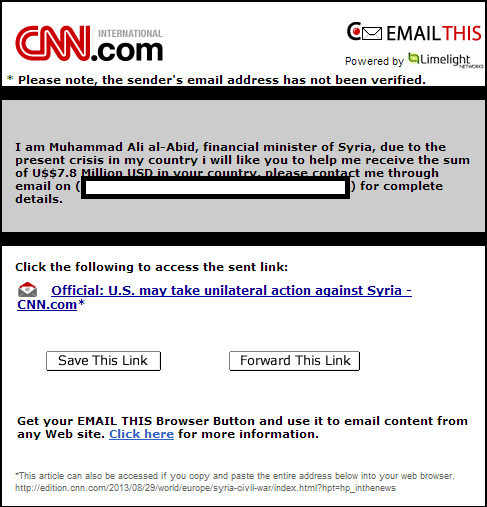 This isn't the first time we've seen them abusing a legitimate Web site's "Email This" feature. Followed by the most recent abuse of Google Calendar, we've also observed 419-ters abusing legitimate Web sites back in 2009 (Dilbert.com and NYTimes.com), and we believe we'll continue seeing such type of abuse, taking into consideration the fact that 419-ers are constantly seeking for new and pragmatic ways to bypass anti-spam filters.
How to prevent falling victim to such type of attacks? Go through these tips.