Pharmaceutical scammers are currently mass mailing tens of thousands of fake emails, impersonating Google's GMail in an attempt to trick its users into clicking on the links found in the spamvertised emails. Once users click on them, they're automatically exposed to counterfeit pharmaceutical items, with the scammers behind the campaign attempting to capitalize on the 'impulsive purchase' type of social engineering tactic typical for this kind of campaign.
Sample screenshot of the spamvertised email: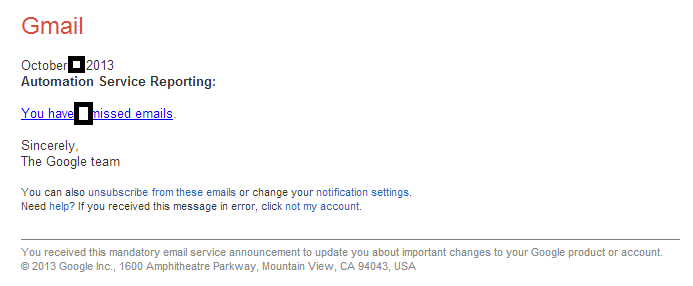 Sample screenshot of the landing pharmacautical scams page:

Landing URL: shirazrx.com – 85.95.236.188 – Email: ganzhorn@shirazrx.com
The following pharmaceutical scam domains also respond to the same IP:
asqrtplc.com
pharmlevitrafitch.com
myprescriptionhealth.com
viagrasequester.com
rxjeanstra.at
medoverdose.at
rxtreatments.ru
The following pharmaceutical scam domains are also known to have responded to the same IP (85.95.236.188):
albertapharm.com
albertapharm.net
antacid.fatwelnessdiet.com
anticlockwise.medwelopioid.com
antiquarianism.medwelopioid.com
assignment.healthcareviagrabiotech.com
canadaprescriptioninc.at
carburettors.opioidsalemeds.com
debars.dentalcarepharmacy.com
deliquescent.homemedicalrx.com
dipoles.fatdietpharm.com
drughealthcareprescription.com
drugstoreabortion.com
drugstorepharmetro.com
heads.fatpillsdiet.com
hebalk.ru
herbalviagrasildenafil.com
inflammatory.patientsprescriptionmedical.com
levitrachrome.at
levitrapillkorsinsky.com
This isn't the first, and definitely not the last time pharmaceutical scammers brand-jack reputable brands in order to trick users into clicking on the links found in the fake emails, as we've already seen them brand-jack Facebook's Notification System, YouTube, as well as the non-existent Google Pharmacy. Thanks to the (natural) existence of affiliate networks for pharmaceutical items, we expect that users will continue falling victim to these pseudo-bargain deals, fueling the the growth of the cybercrime economy and the need for more cybersecurity awareness.
Our advice? Never bargain with your health, spot the scam and report it.