Today, at 2014-02-12 12:16:20 (CET), we became aware of a possible evasive/beneath the radar malvertising based g01pack exploit kit attack, taking place through the DoubleClick ad network using an advertisement featured at About.com.  Investigating further, we were able to identify the actual domains/IPs involved in the campaign, and perhaps most interestingly, managed to establish a rather interesting connection between the name servers of one of the domains involved in the attacks, and what appears to be a fully operational and running Ukrainian-based ad platform, Epom in this particular case.
Actual URL: hxxp://ad.doubleclick.net/N479/adi/abt.education/education_biology;p=1;svc=;site=biology;t=0;bt=9;bts=0;pc=4;oe=iso-8859-1;auc=1;fd=2;fs=1;sp2=0;go=9;a=;kw=;chan=education;syn=about;tile=1;r=1;dcopt=ist;sz=728×90;u=DBIIS70bOkWAXwch41309;dc_ref=http:/biology.about.com/library/glossary/bldefmenlawia.htm;ord=1DBIIS70bOkWAXwch41309
Malvertising domains/URLs/IPs involved in the campaign:
adservinghost1.com – 212.124.112.232; 212.124.112.226 (known to have responded to the same IP is also cpmservice1.com); 212.124.112.229; 74.50.103.41; 68.233.228.236
ad.onlineadserv.com – 37.59.15.44; 37.59.15.211
hxxp://188.138.90.222/ad.php?id=31984&cuid=55093&vf=240
IP reconnaissance:
188.138.90.222 – The following domains are also known to have responded to the same IP: rimwaserver.com; notslead.com; adwenia.com – Email: philip.woronoff@yandex.ru (also known to have responded to 188.138.74.38 in the past; as well as digenmedia.com)
Based on BrightCloud's database, not only is adservinghost1.com already flagged as malicious, but also, we're aware that MD5: dc35b211b5eb5bd8af02c412e411d40e (Rogue:Win32/Winwebsec) is known to have phoned back to the same IP as the actual domain, hxxp://212.124.112.232/cb_soft.php?q=dcee08c46ea4d86769a92ab67ff5aafa in particular.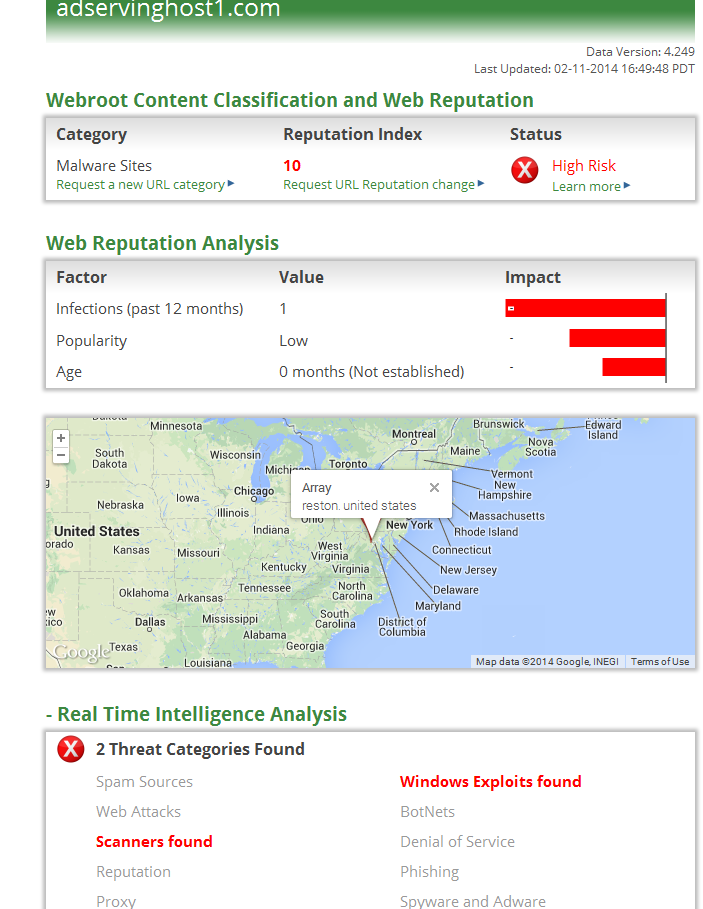 Here comes the interesting part. Apparently, the name servers of adservinghost1.com are currently responding to the same IPs as the name servers of the Epom ad platform.
NS1.ADSERVINGHOST1.COM – 212.124.126.2
NS2.ADSERVINGHOST1.COM – 74.50.103.38
The following domains are also currently responding to 212.124.126.2, further confirming the connection:
ns1.epom.com
ads.epom.com
api.epom.com
directads.epom.com
ns1.adshost1.com
ns1.adshost2.com
ns1.adshost3.com
The following domains are also responding to the same IP as the Epom.com domain at 198.178.124.5:
automob.com
autos.net.ua
epom.com
formanka-masova.cz
ipfire.com – Email: kaandvc@gmail.com; Email: satilikdomain@live.com
smartkevin.com
We'll be keeping an eye on this beneath the radar malvertising infrastructure, and post updates as soon as new developments emerge.