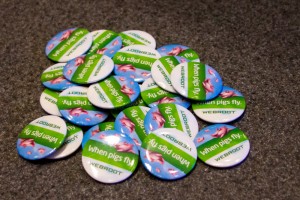 Webroot, the market leader in cloud-based, real-time Internet threat detection, recently returned from the fifth annual Automation Nation in Orlando, hosted by LabTech Software.  Labtech, a robust remote monitoring and management (RMM) platform design and built for managed service providers, hosted the event at the Hilton Bonnet Creek from June 2nd through the 4th.  Hosting over 425 MSP partners and 600 attendees, the event has grown significantly since the previous years.  This was Webroot's first time attending the conference, coming in as a Diamond Sponsor.
Kicking off the event, Webroot CMO David Duncan helped present during the keynote with the support of Andrew Bagnato, a system engineer for Webroot. Speaking on how security doesn't have to suck, and that with the integration into LabTech and the advances in the Webroot Intelligence Network (WIN), MSPs had the opportunity to not only manage their clients remotely, but ensure they are protected as well.
Talking about the Webroot Partner Program and the security solutions offered, the onsite team showed that the solutions provided just work, can drive profits, and ultimately don't suck. With pigs flying left and right, over hear and over there, it was not long until the booth was filled to capacity with partners wanting to learn about the intelligent cloud-based security solutions.  Also shown were demos of LabTech Software integration, which was designed to bring the tools of the Webroot console direct to the MSP's most used console, saving time in the monitoring of Webroot protected endpoints.
While at the conference, Andrew Bagnato also hosted a breakout session presenting on the next generation of anti-malware, packing the room beyond capacity.  Showing how legacy solutions were not keeping up with the new tricks of incoming threats, Andrew presented on the power of the Webroot Intelligence Network and just how it can help protect endpoints across all the networks from even the most advanced threats.
With the event going non-stop for 3 days, the team is glad to have some rest, but excited to have introduced the security offerings to the LabTech partners.