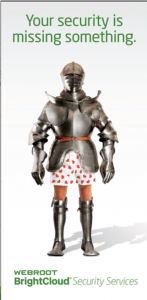 Webroot, the market leader in cloud-based, real-time Internet threat detection, recently returned from the 20th annual Gartner Security and Risk Management Summit in National Harbor, Maryland.  Attended by many of the world's top business and IT professionals in industries ranging from finance to information technology to government, the focus of this year's conference was enablement of an organization to move forward towards its objectives, while ensuring security and protection.  The show's theme at this year's conference, "Smart Risk: Balancing Security and Opportunity", summarized the challenges that many large companies are experiencing today, as they work to ensure the safeguarding of their information without slowing down the company's productivity.
As a 'Premier Sponsor', Webroot attended the Gartner Summit to introduce the next generation threat intelligence services for enterprises, BrightCloud Security Services for Enterprise, which collects and analyzes threat intelligence across multiple vectors – IP, URL, File and Application – from a massive network of nearly 35 million users protected by Webroot endpoint security solutions as well as Webroot technology partners. The team was also on-hand to demonstrate Webroot SecureAnywhere Business-Endpoint Protection, which recently was updated with enhanced management capabilities to help protect large, complex network environments.
With a busy booth during the three days of exhibit time, there was a great deal of interest in Webroot's Threat Intelligence Server and BrightCloud Services as well as the SecureAnywhere Endpoint Protection solution.  The solutions that were introduced aligned well with two key areas that the security community is interested in – namely finding better protection for their endpoints and using external threat intelligence to make their current devices smarter and optimized for more rapid incident response – as well as fitting in with the conference's overall theme.
While at the event, Webroot was also part of various security discussions and presentations, including two sessions where CISO's talked endpoint protection and threat intelligence.  Webroot's Dave Dufour and Chip Witt both presented on real-time intelligence gathering, and Webroot CTO Hal Lonas presented on the difference between threat data and threat intelligence.  Mike Malloy, VP of Products and Strategy, also gave a talk on 'the death of traditional antivirus', a theme that forms the foundation of the Webroot security product lineup.
Thanks largely to a combination of a strong security-focused presence as well as a seamless merging of security goals between attendees and Webroot's product offerings, the company's presence at this year's 2014 Gartner Security and Risk Management Summit was a major success.  Webroot is already planning on similar attendance at the coming Japanese and APAC Gartner summits to continue to drive the momentum forward.