When was the last time you secretly smiled when ransomware gangs had their bitcoin stolen, their malware servers shut down, or were forced to disband? We hang on to these infrequent victories because history tells us that most ransomware collectives don't go away—they reinvent themselves under a new name, with new rules, new targets, and new weaponry. Indeed, some of the most destructive and costly ransomware groups are now in their third incarnation.
So, what does this mean for your business, your customers, your partners, and even your family as you vie to stay safe online and protect what matters most—data?
The OpenText Security Solutions threat intelligence team is sharing mid-year updates to our 2022 BrightCloud® Threat Report. With insight into the latest threats and trends, we are arming organizations with the knowledge they need to pivot and stay ahead of cyber criminals' around-the-clock reinvention of malware, phishing, and brand impersonations.
MALWARE CONTINUES TO ITERATE, AND GROW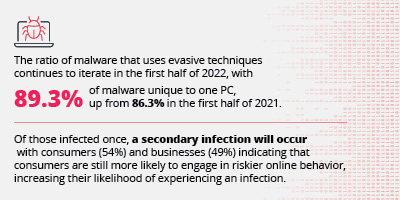 Malware Solution Option:
Windows 11 adoption remains very slow which highlights the importance of incorporating a layered security approach that includes DNS protection to help reduce infection rates.
Protective DNS services are essential components of today's cyber resilience strategies because its protection not only offers added privacy, but also acts as a robust defense against malware. In fact, there are 31% fewer infections when endpoint and DNS protection are combined.

PHISHING PREYED ON A VOLATILE MARKET

Phishing activity was exceptionally high. Almost 20% of all first half of 2022's attacks occurring in April, which was likely the result of tax season, the beginning of national gas hikes, and the baby food shortage.
Phishing continued to proliferate with 46% of all successful phishing attacks using HTTPS. Brands such as Google, Apple and PayPal were among the top ten so far this year for credential phishing, a process of obtaining login information from users.
Phishing Solution Option:
Consumers are still more likely to experience an infection than their business counterparts. Yet as more employees use personal phones and tablets for work, businesses must remain vigilant
Everyone benefits from ongoing security awareness training to reduce the likelihood of successful attacks that can wreak havoc on a business network and affect continuity.
The 2022 BrightCloud® Threat Report mid-year update emphasizes the need to increase cyber resilience using trustworthy and dependable security solutions like antivirus, DNS protection, and backup and recovery to help protect what matters most.
To learn more, go to: www.brightcloud.com