Regional restrictions on NFL game broadcasts and rising membership fees on streaming sites like Netflix, Hulu, and Disney Plus are just some reasons why frustrated consumers turn to illegal streaming sites. Marketed as an alternative to legitimate streaming services, illegal streaming sites have become a portal to connect criminals directly to you (their target).
Unlike official streaming platforms that generate revenue from advertising or user subscriptions, illegal streaming sites must find alternative ways to make money—even if that means giving cybercriminals access to your information. Not surprising, these sites open a gateway for criminals to access bank accounts, commit fraud, and install malicious software. While computer antivirus is effective, sometimes malware still wins. Even the most tech-savvy viewer can fall victim.
With the NFL season kicking off and a host of new fall shows and movies rolling out, findings from the UK serve as a timely reminder to sports fans and movie enthusiasts around the globe to be cautious.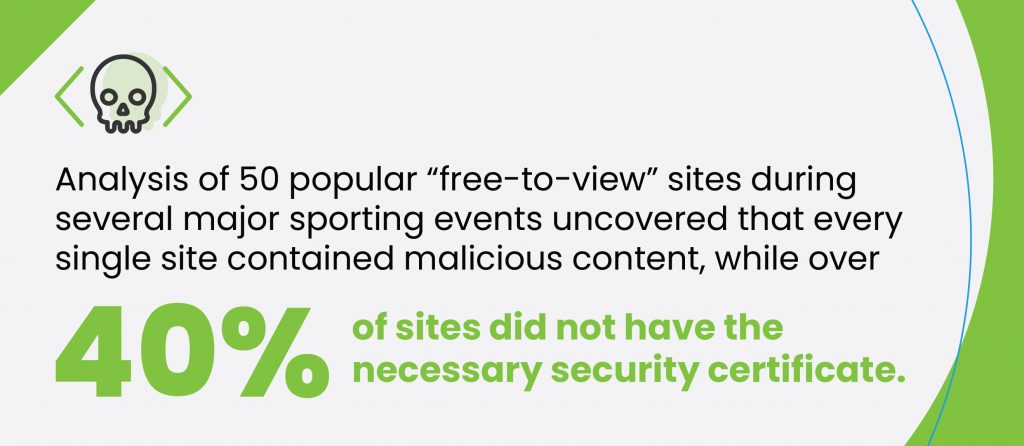 Threats are Real
New research from our threat team reveals the extent to which consumers are being exposed to fraud, dangerous scams, and explicit content on illegal sports streaming sites. Analysis of 50 popular "free-to-view" sites during several major sporting events uncovered that every single site contained malicious content, while over 40 percent of sites did not have the necessary security certificate.
To help you decide whether using illegal streaming websites are worth the risk, let's dive into some of the threats our intelligence experts uncovered during their analysis.
Banking trojans, a type of malware that is hidden under legitimate-looking software and designed to hack your bank accounts. For example, a banking trojan may be disguised as a mute button that, once clicked, automatically starts downloading a trojan onto your device. This type of malware acts extremely fast, and if your antivirus is not up to date, it may not recognize it.
Phishing webpages, the most common type of malicious threat, are websites designed to look legitimate to fool you into providing your credentials. These scams offer the ability to view premium content as long as you log into your email hub or another important account that would be later used for identity fraud.
Crypto scams, an increasingly popular malware that targets crypto apps on your phone. Crypto scams typically appear as pop-ups or redirects that show users fake stories of local politicians or celebrities to lure people into sophisticated financial ploys. These scams can seem very real and sometimes even imitate popular media publishing sites to sell the lie and get you to share your bank details. Another common crypto scam on these sites is malicious extensions that pretend to be a wallet for popular coins.
Explicit content has surged on illegal streaming sites and it's becoming more prevalent and more extreme each year. If you frequently lend your children your device beware, you be unknowingly exposing them explicit content.
How to stay safe
Cybercriminals have a deep bag of tricks, but there are some red flags you can look out for. Most of the illegal sites analyzed ran HTTP as opposed to HTTPS. While the difference of a single letter may not seem like much, "S" is crucial as it indicates encryption. An HTTPS site isn't a guarantee that a website is entirely safe. However, its absence should always serve as a red flag not to use it.
Illegal streaming sites also are flooded with pop-ups and redirects to grab your attention and convince you to click–don't! Links are pretty common and can be disguised as anything, making users highly vulnerable. And if an offer looks too good to be true, it usually is.
Avoid anything that wants to install an extension as part of the requirement to view content. This major red flag will typically lead to malware or phishing redirects.
Of course, the best way to say safe is to avoid risky free-to-view sites. Reliable antivirus that blocks malicious webpages will prevent you from opening and falling victim to these sites.