In a series of blog posts, we've highlighted the ongoing commoditization of hacked/compromised/stolen account data (user names and passwords), the direct result of today's efficiency-oriented cybercrime ecosystem, the increasing availability of sophisticated commercial/leaked DIY undetectable malware generating tools, malware-infected hosts as a service, log files on demand services, as well as basic data mining concepts applied on behalf of the operator of a particular botnet. What are cybercriminals up to these days in terms of obtaining such type of data? Monetization through penetration pricing on their way to achieve stolen asset liquidity, so hosts can be sold before its owner becomes aware of the compromise, thereby diminishing its value to zero.
A newly launched E-shop is currently offering access to hundreds of thousands of compromised legitimate Mail.ru, Yahoo, Instagram, PayPal, Twitter, Livejournal, Origin, Skype, Steam, Facebook, and WordPress accounts, as well as 98,000 accounts at corporate SMTP servers, potentially setting up the foundation for successful spear-phishing campaigns.
Sample screenshot of the inventory of the service: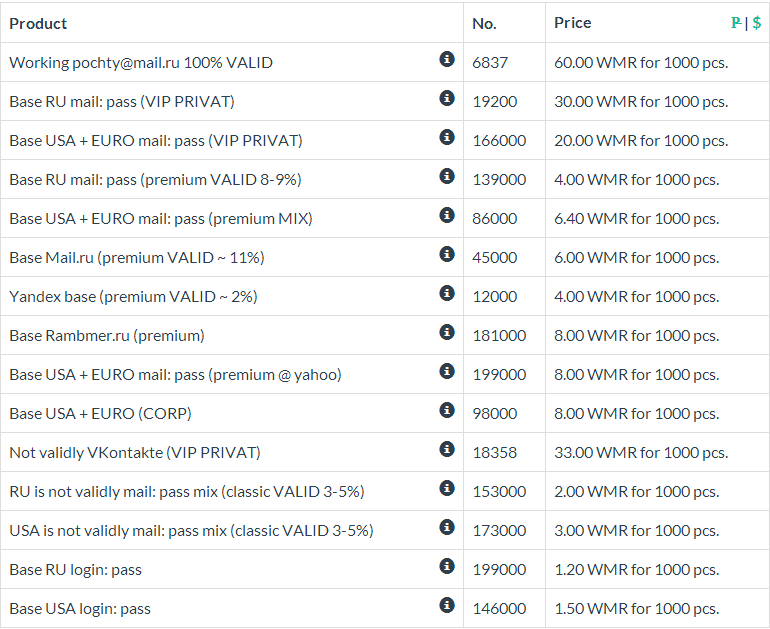 The prices are as follows:
50, 000 hacked/compromised accounts go for $10
100,000 hacked/compromised accounts go for $15
500,000 hacked/compromised accounts go for $45
1,000,000 hacked/compromised accounts go for $80
The service is also offering a discount for orders beyond 3,000,000 hacked/compromised accounts, which in this case are offered for $70 for "every other million". This underground market proposition is a great example of several rather prolific 'common sense' monetization tactics applied by a decent percentage of cybercriminals who are attempting to monetize their fraudulently obtained assets:
Penetration pricing – penetration pricing is a common pricing technique aimed at quickly gaining market share, and in this particular case, efficiently supplying the stolen assets to potential customers. What's also worth emphasizing on is that on the majority of occasions, the cybercriminal will automatically 'break-even' even if he's actually invested hard cash into the process of obtaining the hacked/compromised accounting data at a later stage
Timeliness of a stolen asset in terms of achieving asset liquidity – whether it's due to the (perceived) oversupply of a particular commoditized underground market item — like for instance compromised accounting data — or the plain simple logic that the fact that it's been stolen will sooner or later come to the attention of its owner, cybercriminals are no strangers to the concept of achieving financial asset liquidity, and would do their best to reach out to potential customers as quickly as possible
We expect to continue witnessing the commoditization of hacked/stolen accounting data, with more similar propositions eventually popping up on our radars.