If you're one of the people who is still stubbornly holding onto Windows XP (which stopped receiving support and security updates as of April 8, 2014), it's time to let go. Likewise, if you're using an outdated version of your preferred internet browser, it's time to update. Right now. Why? In both scenarios, you're putting your personal online security at risk any time you browse the internet. Without current web browser support and critical security updates from Microsoft, your PC may become vulnerable to any number of harmful viruses, spyware, and other malicious software which can steal or damage your identity, personal finances, and information.
Microsoft Pulls the Plug on Windows XP; Users Should Upgrade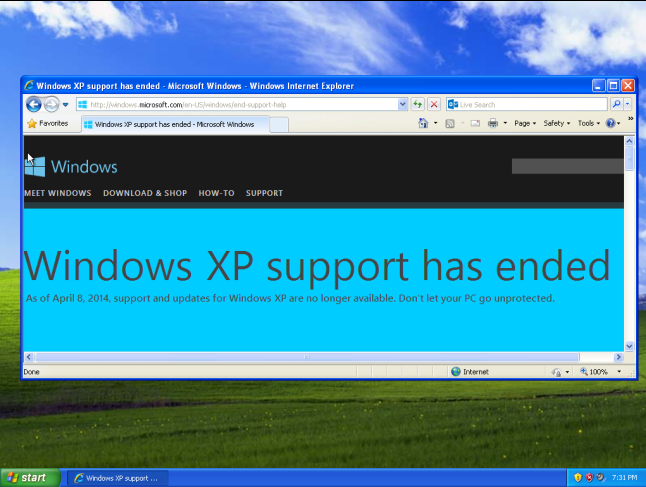 (Source: howtogeek)
Nearly two years ago, Microsoft finally made the decision to stop supporting the widely popular OS (operating system) after a 12 year run. Windows XP faithful (and there were many) were encouraged to say their farewells to the beloved OS and move on to newer Microsoft technologies, or continue to use XP at their own risk as the OS was no longer receiving security updates. Unfortunately, many users chose the latter option, leaving their computers susceptible to a myriad of threats. Worse yet, people stubbornly continue to use Microsoft XP, despite the security risks. If you fall into this category, I strongly advise you to upgrade to a version of Windows that Microsoft still supports.
For more information on the end of XP support as well as how to upgrade, you can check out this Microsoft FAQ.
Using an Up-to-Date Internet Browser on a Supported OS is Important As Well
Making sure your operating system is supported is critical, but it's not the only step users need to take to stay secure. If you're using a supported OS, but fail to keep your internet browsers updated, you leave yourself vulnerable every time you browse the web. Likewise, if you're using an updated browser on an OS that's no longer supported,  same thing. Thus, browser support is also crucial for a safe internet-using experience. Here's the current support status of each major web browser:
Internet Explorer: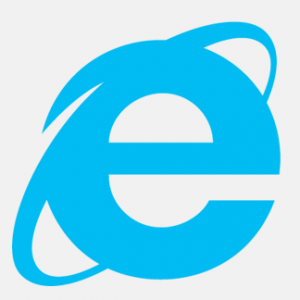 (Source: Microsoft)
Beginning January 12, 2016, only the most current version of Internet Explorer available for a supported operating system will receive technical support and security updates. Internet Explorer 11 is the last version of Internet Explorer, and will continue to receive security updates, compatibility fixes, and technical support on Windows 7, Windows 8.1, and Windows 10. In other words, if you're using any prior version of I.E., you're at risk and it's time to update.
Fortunately, Internet Explorer 11 offers improved security, increased performance, better backward compatibility, and support for the web standards that power today's websites and services, so the transition should prove a comfortable one. Microsoft encourages customers to upgrade and stay up-to-date on the latest browser for a faster, more secure browsing experience. You can download the latest version of Internet Explorer here.
Google Chrome: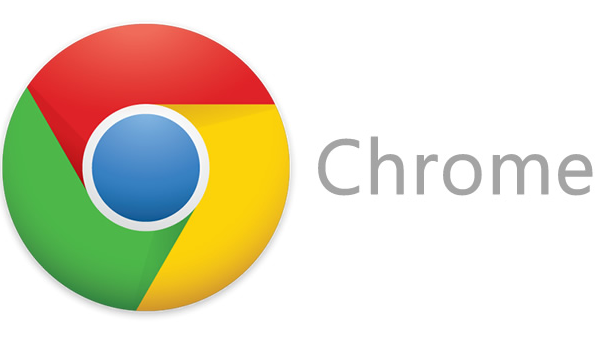 (Source: Google Images)
Chrome, Google's wildly-popular take on the internet browser, came onto the browser scene (and subsequently onto users computers) in 2008. Now, it's estimated that Chrome is the most widely-used browser on desktops, at 58% worldwide usage share.
Unlike Internet Explorer, Chrome automatically updates each time it detects that there's a newer version available, so users don't have to worry about being on a potentially-outdated version of the browser. However, last November, Google announced it will end support for Chrome on some older operating systems by April 2016, which means that less than a month from today, Chrome will stop getting updates if your computer is running any of the following operating systems:
Windows Vista, Windows XP, OS X 10.6 Snow Leopard, OS X 10.7 Lion and OS X 10.8 Mountain Lion
The April 2016 deadline is actually an extension to the life cycle of Google Chrome on Windows XP. Google originally announced back in October 2013 that support for Chrome on XP would end by April 2015, before pushing that deadline back to December 2015. For more information on system requirements as well as download links for different operating systems, check out this Google support page.
Mozilla Firefox: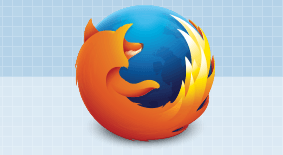 (Source: Mozilla)
Mozilla's Firefox, created back in 2002, still remains a popular browser choice for users. Largely thanks to the decline in Internet Explorer usage, Firefox reportedly took over the number two slot for desktop browsers in February 2016.
Like Chrome, Firefox is set by default to automatically update to the latest version. You can find a list of all Firefox releases here.
As far as operating systems go, here are the ones currently supported by Mozilla: Windows XP SP2, Windows Server 2003 SP1, Windows Vista, Windows 7-10, Mac OS X 10.6-10.11. You can learn more about getting the latest version of Firefox on an older version of Windows here (although you should really not be using Windows XP at this point, as outlined earlier).
Safari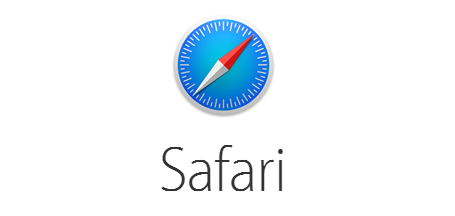 (Source: Apple)
Sure, some Mac users prefer to use Chrome or Firefox. However, Safari (the default internet browser on Mac OS X that was originally released in 2003) is also used by many Mac users worldwide.
While the browser doesn't update automatically, users can easily check for updates by opening the App Store and clicking on 'Updates' in the toolbar. If there's a new version of Safari available, users just need to click the 'Update' button (and enter their Apple ID), and the latest version will be installed.
To keep Safari up-to-date, Apple encourages users to upgrade to the latest version of OS X. Safari 9, which is currently in version 9.0.3, comes bundled with the latest version of OS X, El Capitan. However, users who are still using OS X Mavericks can also update to the latest version of Safari. You can find out more information on this Apple support page.
With so many options, updates and upgrades available today, it's easy to find yourself using an outdated operating system or a internet browser that is no longer supported, and putting yourself at a security risk as a result. Hopefully this blog post and the included hyperlinks will help you take the necessary steps in ensuring your operating system and browsers are up-to-date, which in turn, will help safeguard your identity and personal information. As always, it is also important to have an up-to-date antivirus program installed to protect your computer, in addition to an up-to-date browser and OS.