Get Virus Protection Before It's Too Late!
Limited-time offer: Save 25%
Every day, hackers release thousands of viruses and other malware.
And Webroot protects millions of people against them.
Protects you from:
Viruses
Spyware
Phishing Attacks & Fake Websites
Identity Theft
Plus...
Lightning fast scans in minutes*
No interruptions or slowdowns
70-day money back guarantee
PC / Mac
Original price was
*
Save
Add more years & SAVE!
*Amount shown reflects annual subscription value based on 1 year MSRP.
Webroot won't interrupt you.
So you don't have to stare at the screen while your computer runs a scan.
Webroot takes 20 seconds to check your computer – 60x faster than the average scan time of tested competitor products.
Customer reviews
SecureAnywhere AntiVirus
Webroot SecureAnywhere® AntiVirus protects you from online threats with the world's most powerful cloud security solution, keeping you safe no matter how or where you connect. It scans faster, uses fewer system resources, and protects you in real-time by instantly identifying and blocking new threats as soon as they appear.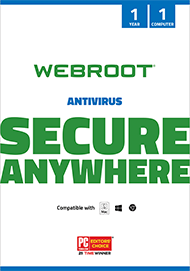 Award-winning protection and performance

It installs in a flash, doesn't require signature updates, scans much more quickly, and takes a ridiculously small amount of space on disk. On top of that… an impressive protection job.
Neil J. Rubenking
PC Magazine Lead Analyst
System requirements

Windows® 7 32- and 64-bit (all Editions), Windows 7 SP1 32- and 64-bit (all Editions)
Windows 8 32- and 64-bit
Windows 8.1 32- and 64-bit
Windows 10 32- and 64-bit
Chrome OS™ operating system
For more information click here.
macOS 10.13 (High Sierra®)
macOS 10.14 (Mojave®)
macOS 10.15 (Catalina®)
macOS 11 (Big Sur®) with Apple M1 ARM or Intel® processors
For more information click here.
Intel® Pentium®/Celeron® family, or AMD®K6/Athlon™/Duron™ family, or other compatible processor
128 MB RAM (minimum)
10 MB Hard Disk Space
Internet access
Google Chrome® 11 and newer
Internet Explorer® version 11 and newer (Windows XP IE8)
Microsoft Edge® (partial support)
Mozilla® Firefox® version 3.6 and newer
Safari 5 and newer
Opera 11 and newer