Is your state the most
hackable?
Malicious hackers take advantage of people with bad cyber habits like sharing passwords, visiting risky websites, and not using antivirus to protect computers and smartphones.
Over the last year, we've made some surprising discoveries about the habits people in the US have online.
(Spoiler alert: they're not good.)
#1: FLORIDA
Florida residents have a wide variety of bad habits online. 56% of them don't use any cybersecurity software at all, 60% reuse account passwords, and 72% share login credentials with friends, family, and coworkers. No wonder they're so hackable!
#2: WYOMING
Home of the first national park in the US, Wyoming also has the honor of being the 2nd most hackable state. 84% of WY residents share credentials and 60% use poor password hygiene, making them easy targets for cybercriminals.

#3: MONTANA
Big Sky Country? More like Big Spy Country… 46% of MT identity theft victims got hit by cyber-thieves 2 or more times in 2017. The state motto might be "Gold and Silver," but having your credit card info stolen probably isn't what they had in mind.
Don't see your state?
Think you're safe?
Get more state stats here.
Get Virus Protection
Before It's Too Late!
PCs, Macs, Tablets or Smartphones +25GB Storage
5 devices / 1 year • change
ADD TO CART
PCs, Macs, Tablets or Smartphones +25GB Storage
5 devices / 1 year • change
ADD TO CART
Advanced threat protection for Windows and Apple computers
Always-on security for your data and identity
Protection that stops ransomware
Real-time anti-phishing blocks harmful sites
Firewall and network connection monitor
Lightning-fast scans without interruption
Secures your smartphones and tablets
Protects account logins and passwords
Eliminates traces of online activity
25GB of secure online storage, accessible anywhere
Award-winning protection and performance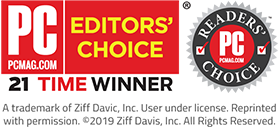 It installs in a flash, doesn't require signature updates, scans much more quickly, and takes a ridiculously small amount of space on disk. On top of that… an impressive protection job.
Neil J. Rubenking
PC Magazine Lead Analyst
System requirements
Microsoft® Windows® XP 32- and 64-bit SP2, SP3 
Windows Vista® 32-bit (all Editions), Windows Vista SP1, SP2 32- and 64-bit (all Editions)
Windows 7 32- and 64-bit (all Editions), Windows 7 SP1 32- and 64-bit (all Editions)
Windows 8 32- and 64-bit
Windows 8.1 32- and 64-bit
Windows 10 32- and 64-bit
Mac OS X 10.7 (Lion®)
Mac OS X 10.8 (Mountain Lion®)
OS X 10.9 (Mavericks®)
OS X 10.10 (Yosemite®)
OS X 10.11 (El Capitan®)
macOS 10.12 (Sierra®)
macOS 10.13 (High Sierra®)
Intel® Pentium®/Celeron® family, or AMD®K6/Athlon™/Duron™ family, or other compatible processor
128 MB RAM (minimum)
10 MB Hard Disk Space
Internet access
Google Chrome® 11 and newer
Internet Explorer® version 11 and newer (Windows XP IE8)
Microsoft Edge® (partial support)
Mozilla® Firefox® version 3.6 and newer
Safari 5 and newer
Opera 11 and newer
Android & iOS Requirements
Android™ Mobile Security:
Android™ operating system version 4.4 (KitKat) or higher
Android™-compatible device with 3 MB of free storage space
Data connection required
Apple® Mobile Security:
SecureWeb Browser and Password Management require iOS® 10 or later
Backup and Storage supported on iOS® 10 or later
Compatible with iPhone®, iPod touch®, and iPad® mobile digital devices
WiFi Security Requirements
Computer Requirements:
OS X 10.10 (Yosemite®) and newer
Windows 7 32- and 64-bit and newer (excluding Windows 8 and Windows 10 S)
Mobile Requirements:
Android™ operating system version 6 and newer
iOS® 10 and newer