What is Managed Detection and Response?
Managed detection and response (MDR) services offer more comprehensive threat detection and response capabilities by augmenting cybersecurity tools with human support. MDR integrates, synthesizes and contextualizes security and other event information to hunt for, understand and respond to security incidents. MDR is a critical tool for containing, resolving and hardening against future attacks.
Why do you need MDR for your business?
It's a struggle to maintain a 24×7×365 security posture. Small and medium-sized businesses are often attractive targets for bad actors looking to steal valuable data, extort money from their victims and more. These businesses often do not have sufficient security expertise to fully protect their IT network structure, drawing attention from cybercriminals as a result.
With MDR, your business can...
Optimize existing investments in Webroot security solutions
Reduce the impact of successful attacks
Hunt, respond to, contain and remediate threats in real-time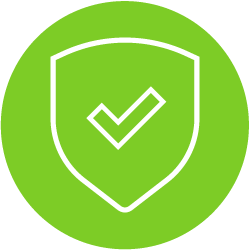 Achieve a higher security compliance and posture with common standards
Benefit from best-in-class AI augmented by 'always there' human experts
Onboard quickly with curated engagement for real-time monitoring and reporting
Webroot MDR offering is unique in the marketplace
DNA of Threat Detection
Human Expertise
Low Management Overhead
How does MDR enhance business cybersecurity?
MDR services are an affordable way for businesses of all sizes to benefit from 24x7x365 eyes-on-glass, hands-on-keyboards cybersecurity. Staffed by former intelligence agency professionals and boasting some of the highest threat detection rates in the industry, Webroot MDR powered by Blackpoint can make cybersecurity capabilities a reality for any organization, including:
Live Asset Visibility
Multi-Point Threat Detection
Lateral Spread Detection
Privileged Account Monitoring
Immediate Threat Response
Remote Access Monitoring
Insider Threat Visibility
3rd Party Integrations
Risk & Compliance Reporting
Insurance and compliance support
Today's cybersecurity insurance providers frequently require an MDR solution as a prerequisite for coverage. Additionally, MDR can help achieve compliance with common data security standards issued by organizations like NIST, ISO, HIPPA, PCI and others. Webroot MDR powered by Blackpoint can assist organizations in meeting these standards.
*with Webroot® Business Endpoint Protection **Add-on capabilities required.
Capability Mapping
Webroot MDR powered by Blackpoint
1. Endpoint Detection Capabilities
Detects / Eradicates known malware
*
Data Loss Prevention (DLP)
File Integrity Monitoring (FIM)
**
Host-based Intrustion Detection / Intrusion Prevention System (IDS / IPS)
Network threat / anomoly detection (e.g. lateral movement)
User Behavior Analytics (UBA)
**
Malware (crimeware, ransomware, trojans, exploit kits, etc.)
*
Misuse of legitimate applications (PowerShell, WMI, MSHTA)
File-based attacks (Microsoft Office, Adobe, PDF, etc.)
Unwanted software (browser toolbars, PUPs)
*
Insider threats (malicous employee, compromised credentials)
**
Accidental release of data
**
Suspicious user activity
**
Suspicious application behavior
Malware (crimeware, ransomware, trojans, exploit kits, etc.)
*
By whitelisting, blacklisting, sandboxing, etc.
Partial
Before they execute, or during execution
Partial
Prevention capabilities continue to function even when the endpoint no longer connected to the Internet or corporate network
for roaming devices
for fully offline offenses
May integrate with a Security Operations Center (SOC) to provide response, could be outsourced (e.g. via a Managed Detection & Response (MDR) Managed Service Provider (MSSP)
Isolate an endpoint from the network
Kill processes and/or banning specific applications
Delete files and/or registry keys
not automatically
Revert to last know good state
not automatically
Investigate endpoint activity to understand attack progression and root cause
Overview of why threat was detected
Ability to gather indicators of compromise (IOCs) from every detected threat
Timeline analysis of event
Endpoint and user information provided
Threats classified by severity