There Are 378 Million Consumer
Cybercrime Victims per Year
Keep your devices and personal information secure in 2017
This is what Webroot can do for you
PC / Mac
Original price was
*
Save
1 device / 1 year • change
PCs, Macs, Tablets or Smartphones
Original price was
*
Save
3 devices / 1 year • change
PCs, Macs, Tablets or Smartphones +25GB Storage
Original price was
*
Save
5 devices / 1 year • change
PC / Mac
Original price was
*
Save
1 device / 1 year • change
PCs, Macs, Tablets or Smartphones
Original price was
*
Save
3 devices / 1 year • change
PCs, Macs, Tablets or Smartphones +25GB Storage
Original price was
*
Save
5 devices / 1 year • change
Advanced threat protection for PCs and Macs
Always-on security for your data and identity
Protection that stops ransomware
Real-time anti-phishing blocks harmful sites
Firewall and network connection monitor
Lightning-fast scans without interruption
Secures your smartphones and tablets
Protects account logins and passwords
Eliminates traces of online activity
25GB of secure online storage, accessible anywhere
Customer reviews
SecureAnywhere AntiVirus
Webroot SecureAnywhere® AntiVirus protects you from online threats with the world's most powerful cloud security solution, keeping you safe no matter how or where you connect. It scans faster, uses fewer system resources, and protects you in real-time by instantly identifying and blocking new threats as soon as they appear.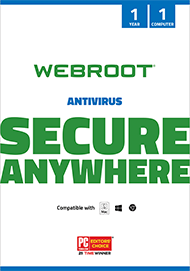 Award-winning protection and performance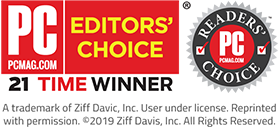 It installs in a flash, doesn't require signature updates, scans much more quickly, and takes a ridiculously small amount of space on disk. On top of that… an impressive protection job.
Neil J. Rubenking
PC Magazine Lead Analyst