X
Thank you for taking a moment to share your feedback with us.
Please write a review and tell us what you think!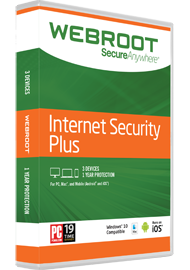 Webroot SecureAnywhere® Internet Security Plus
Webroot SecureAnywhere Internet Security Plus delivers incredible protection, blazing performance and great value. Its unique technology stops the newest threats that other programs miss, and it never needs updating. Protecting PCs, Macs, tablets and smartphones, it delivers features normally found in other providers' highest-priced products; including antivirus, firewall, antiphishing, identity and password protection.

Thank you for your review!
Now share your feedback with your social circles and help protect others:
You can also share your story with a video testimonial
There was a problem with your submission. Please try again later.