Secure your computer with our award-winning Windows® antivirus software
Avoiding malware and other internet-borne threats shouldn't come at the cost of time-consuming updates and scans that take forever. Webroot offers internet security that works, without sacrificing the performance of your Windows-run device.
Find the virus protection that's right for your operating system
PC / Mac
Lightning-fast scans with no interruption
Protect yourself from identity theft
No time-consuming updates
Original price was
*
Save
1 device / 1 year • Change
PC, Mac, Tablets or Smartphones
All the features of AntiVirus AND:
Secures your smartphones and tablets
Protects your logins and passwords
Original price was
*
Save
3 devices / 1 year • Change
PC, Mac, Tablets or Smartphones +25GB Storage
All the features of Internet Security Plus AND:
Eliminates traces of online activity
25GB of secure online storage
Original price was
*
Save
5 devices / 1 year • Change
Help me choose the best security
for Windows
Compare all of our products to find the best protection for you and all your Windows-run devices at a price to fit any budget.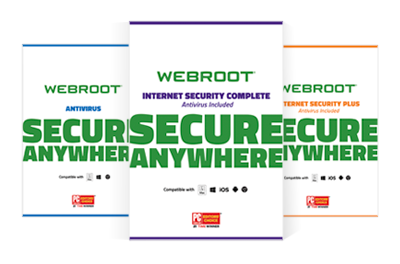 Whether you're running Windows Vista™, Windows 8 or
Windows 10, Webroot will protect your PC
Identity theft protection
Banking, shopping and booking travel are a few of the many activities we engage in online that have the potential to expose sensitive information. Protect your usernames, account numbers, and other personal information from spyware, keyloggers, and other online threats.
Real-time Anti-phishing
According to the FBI, phishing scams cost American businesses $500 million per year*, and data from Webroot suggests an average of just under 1.5 million new phishing sites are created each month. Block those behind fake support accounts, spambot comments, and phony emails from getting ahold of your personal information.
*www.ic3.gov. "The 5 Billion Dollar Scam." (April 2018)
Lightning fast scans
Windows shouldn't have to wait on Webroot. Our scans take about 20 seconds. That's up to 60x faster than competing products. Fast scans mean no interruptions, so you and your device won't be slowed down. Plus, cloud-based updates mean your internet security software is always up to date and on guard against the latest threats, without the wait.
Small storage space
Webroot doesn't take up much space. Compared to the average antivirus software, which takes up 516MB of space, Webroot takes up only 15MB. That fraction of the storage space required by other solutions means you'll have more space left for music, documents, photos, movies and more of what you need.
Satisfaction guaranteed
We take the charge of protecting you online seriously. We recognize that important information like credit cards and other personal data is at stake. That's why we guarantee the real-time protection you deserve with a 70-day, money-back guarantee.
US-based company
Webroot's customer service is award-winning and 100% in-house, offering industry-leading support and product assistance. Support is Colorado-based and adheres to a "follow-the-sun" approach with offices spanning the globe from east to west, so there's someone there to assist you at any time, day or night.
Don't rely on Microsoft's built-in security to protect your computer
Are you relying on built-in protection to keep your devices safe from malware and other viruses? It may not be enough. In an independent, third-party study, Webroot blocked 100% of real financial malware samples it was exposed to, while Microsoft Security Essentials 2015®​​​​​ blocked only 82%.
System requirements
Microsoft® Windows® XP 32- and 64-bit SP2, SP3 
Windows Vista® 32-bit (all Editions), Windows Vista SP1, SP2 32- and 64-bit (all Editions)
Windows 7 32- and 64-bit (all Editions), Windows 7 SP1 32- and 64-bit (all Editions)
Windows 8 32- and 64-bit
Windows 8.1 32- and 64-bit
Windows 10 32- and 64-bit
Mac OS X 10.7 (Lion®)
Mac OS X 10.8 (Mountain Lion®)
OS X 10.9 (Mavericks®)
OS X 10.10 (Yosemite®)
OS X 10.11 (El Capitan®)
macOS 10.12 (Sierra®)
macOS 10.13 (High Sierra®)
macOS 10.14 (Mojave®)
macOS 10.15 (Catalina®)
Intel® Pentium®/Celeron® family, or AMD®K6/Athlon™/Duron™ family, or other compatible processor
128 MB RAM (minimum)
10 MB Hard Disk Space
Internet access
Google Chrome® 11 and newer
Internet Explorer® version 11 and newer (Windows XP IE8)
Microsoft Edge® (partial support)
Mozilla® Firefox® version 3.6 and newer
Safari 5 and newer
Opera 11 and newer